Eva Kingma
2018 Lifetime Achievement Award
Eva Kingma was born May 15, 1956. Her father was a sculptor, her mother a professional classical pianist and singer. From age 2, Kingma was allowed to play with the tools in the workshop. Initially, her favorite instrument was a recorder; she loved the concerts of Frans Brüggen and saved all her pocket money to buy his records. But she slowly developed more interest in the "real" flute, especially the wooden flute. Her great uncle, Dirk Kuiper, who was second flutist in the Concertgebouw Orchestra, also made flutes. During family visits, Eva became more and more interested in his workshop, but she didn't have the courage to ask him for a tour.

Kingma's father altered one of his sculptures into a Kuiper flute for his daughter to play. But over time, her fascination for the instrument's technical aspect grew. Experimenting with the mechanics of her flute, she broke it and called her uncle for a repair. That was the start of Kingma's flutemaking career. Impressed by her enthusiasm for flutemaking, Kuiper hired her on October 8, 1975. Because her great uncle had serious hearing and sight problems, Kingma moved quickly into the production of silver-plated student flutes, so-called Kuiperflutes, and then on to silver flutes, alto flutes, and white gold C. flutes.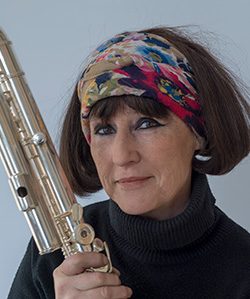 Kingma took over the Kuiper shop in 1981. In the mid-1980s, Dutch flutist Jos Zwaanenburg asked Kuiper and Kingma to build an open-hole alto flute, which at that time was unusual. This was the beginning of a revolution in flutemaking. In 1987, Kingma and her uncle developed an openhole bass flute, marking the launch of the Kingma System. Kingma received a U.S. patent for it, contacted Robert Dick, and showed him the prototype. Dick immediately ordered the second one, and he gave a world premiere of the new flute in Amsterdam.

Kingma and Dick worked and traveled together for several years. But Kingma's passion led her deeper into low flutes, and near the end of the 1980s, she moved her shop to the north of Holland and specialized in low flutes. She worked closely with pioneering flutemaker and designer Albert Cooper on scales and headjoints. She developed bass, contr'alto in G, contra, and subcontra flutes.

In 1989, she visited Wm. S. Haynes and Verne Q. Powell. She also met with flutemakers Dana Sheridan and Bick Brannen. The meeting with Brannen was the most important of her career. In 1992, the two met again in London for Cooper's 70th birthday. In 1993, they began a collaboration that launched the Brannen Kingma System C. flute, which was introduced by Kate Lukas and Anne La Berge at the 1994 NFA Convention. Subsequent projects included the first full Kingma System Kingma and Brannen alto flute in 2014 and the Kingma and Brannen bass flute a year later.

For the past 25 years, Kingma has worked intensely with Swiss flutist Matthias Ziegler, designing special flutes for him such as the Hoover.

In 2015, she and Ziegler launched a flute festival, featuring Wissam Boustany and Ian Clarke, in Grolloo, Kingma's hometown in Holland.

In 2007, Kingma began collaborating on the Kingma System with the Sankyo Company, and more recently, Boston flutemaker Lev Levit began producing Kingma's flute. Silversmith David Kerkhof joined Kingma's shop in the early 2000s.

Kingma has worked with and for many renowned players, including Emmanuel Pahud, Boustany, Zwaanenburg, Anne La Berge, Dave Weiss, Henri Threadgill, Sir James Galway, and Helen Bledsoe. She has collaborated with radio orchestras in Holland, flute choirs, Hollywood studios, Concertgebouw Orchestra in Amsterdam, and many others.