Harvey Sollberger
2015 Lifetime Achievement Award
Harvey Sollberger has been active as a composer, flutist, and conductor. He studied composition with Jack Beeson and Otto Luening and flute with Julia Denecke, Betty Bang Mather, and Samuel Baron. His compositions have been performed by the New York Philharmonic, the San Francisco Symphony, and ensembles throughout Europe, Asia, and the Americas. Commissions and grants have come from the Fromm Foundation, the Koussevitzky Foundation, the Walter W. Naumberg Foundation, the NEA and various state arts councils, the Martha Baird Rockefeller Fund for Music, and the Guggenheim Foundation. He has been Resident Composer at the American Academy in Rome and Composer-in-Residence for the San Francisco Contemporary Music Players and Red Cedar Chamber Music.

In 1962, Sollberger was a co-founder of the Group for Contemporary Music, the first contemporary music ensemble in residence at an American university. He has premiered many new flute works, including Davidovsky's Synchronisms No. 1, and his conducting credits include performances with the San Francisco Symphony, the San Diego Symphony. and the premiere of Elliott Carter's Syringa. From 1975 to 1983, he directed the Flute Farm, an intensive course for the study of contemporary flute literature. The composer of more than 80 works (40 of them featuring the flute), Sollberger has amassed a discography of more than 130 commercially released recordings. In 2014, Harvey Sollberger donated his collection of scores, sketches, programs, articles, recordings, and letters to the Library of Congress in Washington, D.C.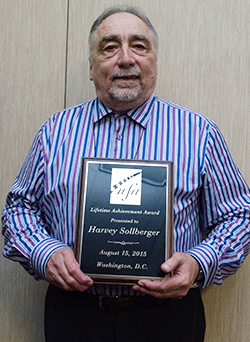 Sollberger has taught at Columbia University, the Manhattan School of Music, Indiana University, and the University of California-San Diego, where he is currently Distinguished Professor Emeritus. While in San Diego, he led the ensemble SONOR and was music director of the La Jolla Symphony and Chorus. He has also been on the faculty of the June in Buffalo Festival and has been a visiting professor at Amherst College, Temple University, SUNY Purchase, Stony Brook University, the University of Illinois, and other schools.
Sollberger is a dedicated student of Italian language and literature. The great Italian flutist Severino Gazzelloni inspired him as a youth, and Sollberger has returned the favor by translating Gazzelloni's autobiography, The Golden Flute. He is finishing the translation of a book by one of his favorite authors, Anna Maria Ortese. Another Italian project that has claimed his attention in recent years has been the study and performance of Giacinto Scelsi's "lost" epic masterwork, Tetratkys for solo flute. In 2013, he performed it in Scelsi's ancestral castle in Southern Italy.
His most recent composition is Second Grand Quartet for Sixteen Flutes (a "continuation" of his 1962 Grand Quartet), composed for the IWO Quartet, which will premiere at this year's Annual NFA Convention. He lives with his wife, Marla, in Iowa.