Diversity and Inclusion Committee
Mission
The Diversity and Inclusion committee is actively advocating for a flute community whose members have diverse cultures, backgrounds, and life experiences. We aim to honor freedom of expression, ideals of citizenry, and civility of discourse as fundamental to personal, professional, and organizational growth.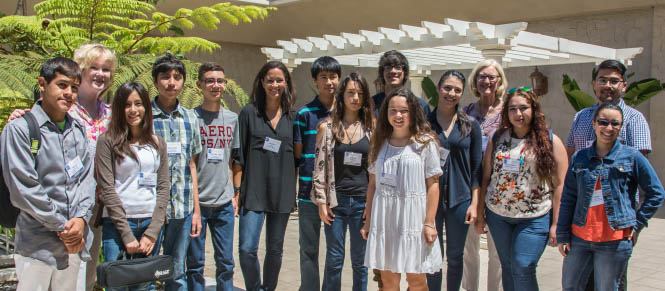 Members of 2016 Cultural Outreach Committee, Eileen Grycky, Jan Angus, and Jennifer Grim, along with NFA Student members Rodrigo Corral and Dafne Guevara, host scholarship students from Mexico during the NFA Convention in San Diego.
Committee Members
Mariana Gariazzo, Chair
Brian Dunbar
Jeiran Hasan
David Houston
Taylor Irelan
Elizabeth Janzen
Nora Lee Garcia

Mily Montanez
Kim Scott
Kelly Sulick
Caen Thomason-Redus
Julee Kim Walker
Our committee strives to engage and celebrate flutists of all walks of life, including but not limited to people whose voices have been historically underrepresented or marginalized, such as:
BIPOC (Black, Indigenous, and People of Color)
LGBTQ+ (Lesbian, Gay, Bisexual, Transgender, Queer/Questioning, and Others)
Latinx (gender-neutral word for people of Latin American descent)
AALANA (African American, Latino, Asian, Native American)
Donate
Diversity and Inclusion scholarship programs are made possible through the NFA's General Endowment Fund. If you are interested in supporting our programs, please consider making a donation—your support could make all the difference for a promising young flutist!

Activities
Continuing and strengthening NFA's mission of inspiring flutists, enriching lives, and impacting those who need it most, the First Generation in College Scholarship aims to support and develop educational and career opportunities for talented, first-generation in college students.
Lesson Scholarships
The Lesson Scholarships Program provides private lessons year-round to students enrolled at community music schools in five major cities across the country. This renewable scholarship supports talented school-age students through their high school graduations. In addition to flute lessons, each student is assigned a mentor who oversees progress and helps the student explore study habits, career possibilities, and life skills. Students also receive complimentary memberships to the NFA.

Convention Scholarships
Secondary school students are awarded scholarships to attend the NFA convention for one day at no cost. Each year, the Diversity and Inclusion Committee identifies 10-12 flute students who attend school in the convention host city and who could not otherwise afford to attend. Selected students are guided through convention concerts, classes, and exhibits and experience a national celebration of flute culture.
Outreach Mentoring Program

The Outreach Mentoring Program (OMP) fosters professional growth opportunities targeted to minority flutists enrolled as music major students at a university or college near the convention host city. Mentees receive personal career and outreach performance training from members of the Career and Artistic Development Committee. Mentees are invited to present at the NFA convention on a scholarship that covers their NFA student membership, convention registration costs, and miscellaneous expenses.