Diversity and Inclusion Committee
Mission
The Diversity and Inclusion committee is actively advocating for a flute community whose members have diverse cultures, backgrounds, and life experiences. We aim to honor freedom of expression, ideals of citizenry, and civility of discourse as fundamental to personal, professional, and organizational growth.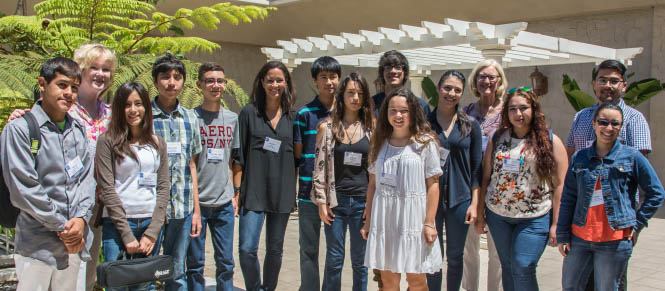 Members of 2016 Cultural Outreach Committee, Eileen Grycky, Jan Angus, and Jennifer Grim, along with NFA Student members Rodrigo Corral and Dafne Guevara, host scholarship students from Mexico during the NFA Convention in San Diego.
Committee Members
Mariana Gariazzo, Chair
Jacqueline Cordova-Arrington
Brian Dunbar
Jeiran Hasan
David Houston
Taylor Irelan
Elizabeth Janzen
Nora Lee Garcia

Mily Montanez
Kim Scott
Kelly Sulick
Caen Thomason-Redus
Julee Kim Walker
Activities
Continuing and strengthening NFA's mission of inspiring flutists, enriching lives, and impacting those who need it most, the First Generation in College Scholarship aims to support and develop educational and career opportunities for talented, first generation in college students. First-generation in college students are defined as those students whose parents have not completed a bachelor's degree. Offered nationwide, this scholarship provides a transformative experience for college-level students with challenging financial backgrounds.
Lesson Scholarships
Annual, renewable private lesson scholarships are awarded to students across the country. Scholarships are applied to tuition fees for private lessons for talented school-age students for as many years as the student continues to study through his or her high school graduation. The scholarships are intended to provide for students who could not otherwise afford private lessons.

As part of this scholarship, each student is matched not only with a quality private instructor but a mentor. The mentor oversees progress and acts as a role model, helping the student explore study habits, career possibilities, and life skills. Students also receive a complimentary membership in the NFA. Currently, scholarships support students attending schools in four major cities across the U.S.
Convention Scholarships
Scholarships are also awarded to allow secondary school students to attend the NFA convention for one day at no cost. Each year, the Diversity and Inclusion Committee identifies 10–12 flute students attending school in the convention city who could not otherwise afford to attend. Selected students are guided through convention concerts, classes, and exhibits by a member of the Diversity and Inclusion Committee. Convention scholarships provide an inspirational opportunity for promising young flutists to make connections, observe performances by musical icons, and experience a national celebration of flute culture.

Diversity and Inclusion Scholarships are provided through the NFA's General Endowment Fund. If you are interested in supporting under-resourced students, please consider making a donation—your support could make all the difference for a promising young flutist!
Instrumental Awards
To ensure that our Lesson Scholarship recipients have suitable, working instruments, the Diversity and Inclusion Committee awards instruments to deserving students on a case-by-case basis. A new instrument suited to the skill level of the student greatly impacts the learning experience allowing our young artists to grow and enjoy lessons year after year.

In 2018, using endowment funds, the NFA purchased a brand-new flute for Minneapolis scholarship recipient Kemunto Onchera to use for her lessons. "When she received her new flute several months ago, she could immediately sense the difference," said her teacher, Vanamali Medina. "She can tell how much more this instrument is capable of and it's made her want to live up to its potential." Kemunto is currently in 9th grade, she takes flute lessons at MacPhail Center for Music and performs with the MacPhail Northside Youth Orchestra.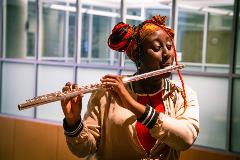 Outreach Mentoring Program
The Outreach Mentoring Program (OMP) fosters professional growth opportunities targeted to minority flutists enrolled as music major students at a university or college near the convention host city. Mentees receive personal career and outreach performance training by members of the Career and Artistic Development Committee. Thorough the academic year prior to the convention, mentees develop interactive outreach performances that engage their community hone entrepreneurial and presentation skills. Mentees are invited to present at the NFA convention on a scholarship that covers their NFA student e-membership, convention registration costs, and miscellaneous expenses.
A Note from a Scholarship Student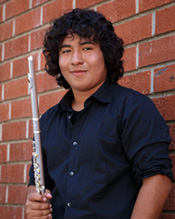 Hello! My name is Roger Justo and I am an 11th grade flutist at the Colburn School in Los Angeles, California. I want to describe just how much the National Flute Association's Scholarship has made me into a better person and improved my life.

Growing up, I did not live in the prettiest of neighborhoods, nor did I have the safest home. I sometimes didn't even feel comfortable walking among the people who I went to school with. But that all changed when I picked up the flute in fourth grade at my elementary school, Magnolia, and auditioned for the NFA scholarship. Nervously, my mom and I waited to learn the results of my audition—only to be thrilled when my orchestra director stated that I would be given the opportunity to have a private teacher at the Colburn School.

Ever since then, music has been more than a part of my life: I believe it's safe to say that music is my life. Music is my getaway from all the troubles in the world, the only reason why I can still smile, even when the whole world has beaten me down. My private teacher, Mrs. Karen Lundgren, has become more than my instructor—she's become a person I can go to for guidance, support, and wisdom.
Now I practice more than I eat (which says a lot!), and I do this for several reasons:

It's fun!
I want to be the best flutist I can possibly be.
I want to set an example for others. I volunteer at a program at my school called YOLA, where my job is to mentor kids in music, many of them coming from backgrounds like mine. As someone who knows how hard it can be, I want to show them that anyone can make it in life, regardless of how tough it can be. I want to show them that their future can be bright and that with music, anything can be possible.
As I continue to improve as a flutist and a student, my dad keeps reminding me that "no matter how far in life you go, you should never forget the people who have helped you along the way." Keeping those words close to my heart, I will always do my best to remember everyone and everything that has helped me get to where I am today.

And it all started with the NFA, so thank you for the road that you have set me on; thank you for giving me an opportunity; thank you for everything you have given me. The gift that you've given me is indeed the most precious gift I've ever received and I promise I will never forget about this great association!

– Roger Justo
A Note from a Teacher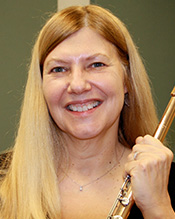 I want to express my gratitude to the National Flute Association for this scholarship program. My student Roger Justo has been a recipient for the past five years. This scholarship enabled him to start flute lessons with me at the Colburn Community School of Performing Arts, and with further assistance and generosity from the Colburn School and the Jack Kent Cooke Foundation, Roger can have lessons throughout the year. This is necessary for him to prepare for his college auditions next year, when he will be a senior. Roger's parents are not able to pay for his music lessons. Roger is very talented, dedicated, and deserving of the NFA scholarship. It has changed his life! He is a good person, and does not take for granted any of the assistance that has been given to him. He is truly appreciative, and so am I. Thank you very much!

– Karen Lundgren