NFA Endowment - Thomas Mease Fund
Feb 23, 2023, 16:26 PM by The National Flute Association
We are honored to announce the establishment of a new NFA Endowment Fund - the Thomas Mease Fund! In tribute to the life and legacy of Thomas (Tom) Mease, Steven Wilson started the Thomas Mease Fund. This fund helps provide registration scholarships for the NFA Convention to flutists with financial limitations.

Tom was an accomplished musician and had many instruments in his repertoire but the flute, specifically the bass flute, was his instrument of choice. He was an active member of the NFA, most recently serving as Treasurer until his diagnosis with cancer. Learn more about Tom.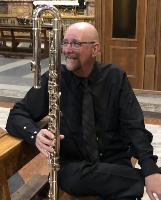 Want to get involved? Learn more about the NFA Endowment.