2018 Convention Throwbacks
May 28, 2019, 13:23 PM by User Not Found
If you've never been to the Annual NFA Convention, you're in for a treat! Hear are some digests from sessions at the 2018 convention Orlando to give you a taste of what's in store.

To view the schedule for the 2019 convention, August 1-4 in Salt Lake City, click here.
---
350 Years of Flute: Historical Flutes in Concert
by Elizabeth Walker

I was delighted to be involved in a concert dedicated to 350 Years of historical flutes. I began the concert on a Renaissance flute made by Puglisi, playing "Amarilli mia Bella" by Van Eyck from Der Fluyten Lustof, c. 1644. The harmonic mode suits the flute well.
The next flutes in the concert were reproductions of Palanca and Grenser flutes c.1765 and 1796 respectively. Leela Breithaupt, Barbara Hoskins, and Nancy Schneeloch-Bingham performed suites by Joseph Bodin de Boismortier and Michel de la Barre.
All the flutes in the next stage of the concert were originals not reproductions. The first, a boxwood flute with four lever keys made by Asa Hopkins in Litchfield, Connecticut, c.1830, was played by Barbara Hopkins. She performed "Hancock Light Infantry Quick Step," published in the Boston Weekly in 1841, and "Gallop" and "Waltz" by John L. Downe.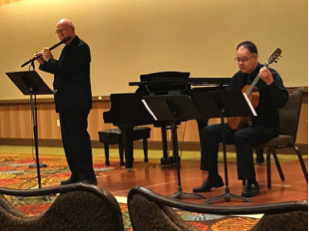 Wendell Dobbs and Júlio Ribeiro Alves
Kelly Nivison performed on a 13-keyed Romantic flute by Heinrich Friedrich Meyer (1814–97) c. 1880. Nivison's flute has an ivory head, which produced a particularly rich, warm, and expressive tone. She played Divertissement no. 4 by Charles Keller.
Wendell Dobbs then treated us to a Rossini song arranged by Tulou and Carulli for flute and guitar. Júlio Ribeiro Alves played on an original guitar from 1849; Dobbs matched on a Tulou system "flûte perfectionnée" by Jacques Nonon, c. 1855.
I ended the concert with Johannes Donjon's Elégie-Etude, which I played on a Böhm system, Louis Lot flute no. 435 made in 1859.
Where are we heading in the next 350 years?
Newly Published Music Concert
By Whitney O'Neil

Convention Performers Competition winners Audra Ziegel, Nicholas Buonanni, and Abigail Graham performed works selected from the winning pieces of the Newly Published Music Competition. This exciting concert featured C and alto flutes in a variety of solos and duos. Pianists Jonathan Spivey and Aaron Ziegel collaborated.
Several standout works included December Duo for flute and piano by Laurel Zucker. This three-movement work, wonderfully performed by Audra and Aaron Ziegel, combined beautiful melodies with diverse moods and challenging technique.
Nicholas Buonanni gave a moving performance of two vocalises from the collection Three Vocalises. This arrangement (by Chris Potter) for alto flute and piano left the audience in a momentary trance after the haunting, lyrical melodies sang from Buonanni's flute.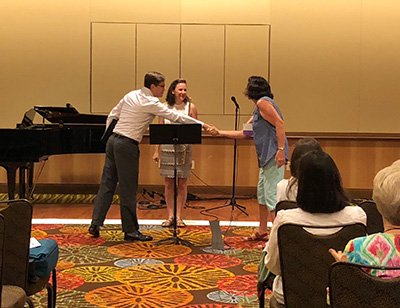 Three Spirituals, arranged by Marietta Simpson and Evelyn Simpson-Curenton and performed by Graham, was a fun, upbeat, exciting work. It offered both technical challenges and meaningful lyrical moments to suite every listener.
Other works were Phyllis Avidan Louke's Sonatina for two flutes; a selection from A Little Tango in Her Blood arranged by Alison Young; Five Duets by Sadial Cuentas; and Pop by Tim Hagen, an entertaining and challenging work full of extended techniques.
This sensational concert was full of new works that should be explored. The pieces offer a variety of difficulty level and something for every flutist's taste.
Building a Stronger Flute Club Panel
by Ellen Johnson Mosley
The National Flute Association recognizes that regional and local flute nonprofits do foundational work in building flute communities across our country. Its annual flute club panel brings together a team of experts to discuss pressing issues for leaders in local and regional nonprofit flute organizations.
This year's panel was put together by Kelly Sulick, the chair of the NFA Flute Clubs committee. Eight individuals served on the 2018 panel.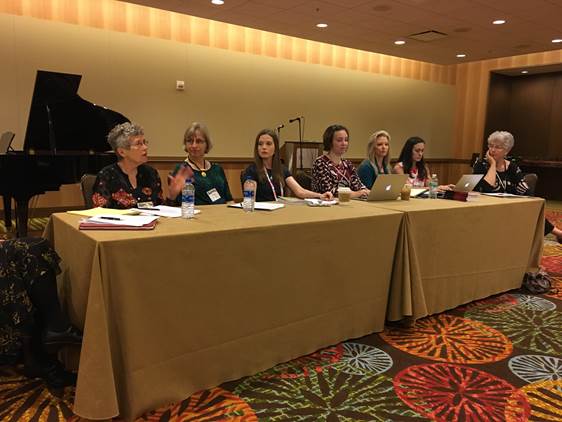 Katherine Borst-Jones, the panel's moderator, the advisor to the Central Ohio Flute Association, and a member of the flute faculty at Ohio State University;
Heidi Alvarez, a member of the flute faculty at Western Kentucky University, previous treasurer of the Flute Society of Kentucky, and Mid-South Flute Society member;
Cindy Bruce, the executive director of the Florida Flute Association;
Lindsay Leach-Sparks, a member of the faculty at the University of Akron, a previous faculty member at the University of North Carolina-Chapel Hill, a board member of the Raleigh Flute Association, and a social media specialist;
Linda Mintener, the NFA's legal advisor and a member of the Madison (Wisconsin) Flute Club;
Ellen Johnson Mosley, a member of the faculty at Morehead State University, vice president of the Flute Society of Kentucky, previous president of the Austin Flute Society, and previous board member of the Tack Flute Foundation;
Erica Pirtle, immediate past president of the Atlanta Flute Club; and
Rosene Rohrer, founding member of the 34-year-old Raleigh Area Flute Association.
Since the panelists fielded a lot of varied, specific questions, this panel was tailored to the needs of audience members. All had opportunities to participate and share ideas and questions about what might work in their flute societies or clubs. A great deal of interest was generated for legal issues, online content, and event programming.
This event encouraged me both as a participant in the panel and as an observer of the answers of all of my colleagues. My takeaway is that the better we can help local and regional flute organizations reach their goals, the more we can do for flutists of all ages and levels.