Flute Choir Lobby Concerts
by Phyllis Avidan Louke and Barbra Fairman
This year's location for flute choir lobby concerts was an exceptional and comfortable space for both performers and the audience. A very large open space with a high ceiling and a large number of round tables and chairs for the audience was a comfortable space to bring a lunch or a snack and listen to wonderful music. The performers' area had a low enough ceiling to project the sound throughout the large space. Audiences were generally large, as many people took advantage of the opportunity to sit down and relax.
Thursday Pre-Gala Lobby Concert
by Phyllis Avidan Louke
The Fairbanks Flutists, conducted by Dorli McWayne, performed in Thursday's Pre-Gala Lobby Concert in the lobby of the beautiful Abravanel Concert Hall. The group's energetic program included "Gavotte" from Grieg's Aus Holbergs Zeit (Holberg Suite), John Luther Adams' "Strange Birds Passing," "Summer" from The Seasonal Tern by Emerson Eads, "Nordic Spirits" by Till MacIvor Meyn, "Fantasia on Land of the Silver Birch" by Nancy Nourse, and "The Secret Language of Snow" by Kirk Vogel. I still remember the 2003 NFA Convention in Las Vegas, when the Fairbanks Flutists were invited to play Vogel's piece on the evening weather report.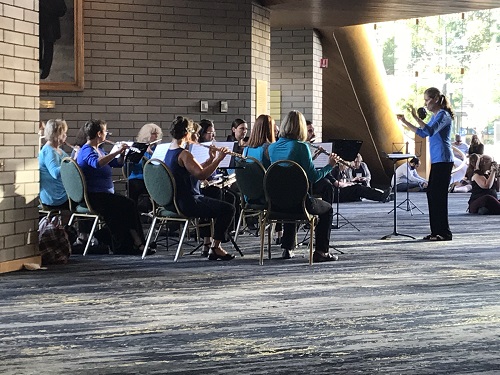 Friday Flute Choir Lobby Concert
by Phyllis Avidan Louke
The second group to perform was the Rocky Mountain Flute Choir (formerly ALRY Flute Choir), an adult ensemble conducted by Shawana Quirk. It opened with the theme song for the television show "Wild, Wild West" by Richard Markowitz, bringing back memories of both the show and its song. Also on the program was "Bourree" by J.S. Bach and "Cloud Forms, Op. 107" by Cecil Effinger, which had been commissioned by Amy Rice-Young for her then-new publishing company ALRY; Effinger had been one of Rice-Young's professors. The program ended with my "Postcards from Pikes Peak," which had been commissioned by the Pike's Peak Flute Choir in Colorado Springs.
The first group to perform on Fridays concert was Wichita State University's FluteShox: a well-prepared group of high school and college students playing an exciting and challenging program. Conducted by Carmen Lemoine, the program opened with "Arabesque No. 1, L. 66" by Debussy followed by Rozman' Little Suite of Mythological Beings, in which you could imagine the creatures scampering about. "Chivey" by Nicole Chamberlain required a number of extended techniques and beatbox techniques, which were performed energetically. It was obvious that the group was enjoying the music. The program ended with "Apanhei-te Cavaquinho" by Nazareth from a collection of Brazilian music.
Saturday Flute Choir Lobby Concert
by Phyllis Avidan Louke
The first group to perform on Saturday's Flute Choir Lobby Concert was the Los Angeles Flute Orchestra, conducted by Peter Senchuk. Its included "For Ella" by Peter Senchuk—a jazz reimagining of Beethoven's "Für Elise"—and the world premiere of Sonata of Native American Dances: Music from the Four Corners, an arrangement of traditional songs by Emily Senchuk, with soloist Joanne Lazzaro. Next were Peter Senchuk's "Jazz Concertino" with soloist Ellen Burr and his arrangement of David Clayton-Thomas's "Spinning Wheel" with soloist Ali Ryerson.
The second group to perform was the Orange County School of the Arts Flute Ensemble Kaleidoscope! Colors of the West Coast with conductor, Janelle Barrera. Its program included Christopher Caliendo's "La Milonga," Scenes from the West by Harold L. Walters, Ricky Lombardo's arrangement of Carole Bayer Sager and David Foster's "The Prayer," two movements from Salvador Brotons' Flute Suite, Op. 41, three movements of Seven Southern Sketches by Sonny Burnette, and the second movement of Benjamin Boone's Victoria's Secret Gift. The young flutists in this talented group wore matching T-shirts and red shoes and were impressive with their energy, musicality, and enthusiasm for the challenging music they were playing.
Sunday Flute Choir Lobby Concert
by Barbra Fairman
The adult flute choir Crossroads of the West, which performed as part of the Sunday morning lobby concert, was made up of 35 flutists from the United States, Canada, and Norway. Continuing a recent annual tradition, the flutists registered on the NFA website and received music and part assignments prior to the convention. The choir was made up of piccolos, C flutes, alto and bass flutes, and two contrabasses, with Phyllis Louke conducting. Rehearsals were an hour each day of the convention.
Music performed this year was Kabalevsky's "Comedian's Gallop" (arr. Lombardo); Holst's "I'll Love My" Love (arr. Louke); "Elijah Rock" from Four Spirituals (arr. Louke); Lutz's "Daddy, Where's My Cape?" from Afternoon with the Kiddos; Dennis's "A Prayer for Peace" (arr. Louke); "Cindy" by Pearce, "Venus" and "Mercury" from The Planets (arr. Louke), and Schifrin's "Mission: Impossible Theme" (arr. Louke).