by Kathy Melago
"Fresh Voices" was a fresh collection of newer works for varying instrumentation. The performance opened with Nicole Riner and pianist Katie Leung performing Joseph Hallman's Four Pieces. "For Jolivet" cycled through many moods, like the moods of Jolivet's works—energetic and articulate, then mysterious and introspective. "For Nico Muhly" was ethereal and showcased Riner's outstanding flexibility and control of her vibrato. "For David Lynch" opened ethereally, almost like a continuation of the previous piece, then added harmonics, building to a rich, lyrical melody before returning to that ethereal sound, ending with perfectly executed whistle tones, like an echo. "For Poulenc" featured a return to the energetic and articulate style, but this time, with a style more like Poulenc's Sonata. The whole work was performed with a fantastic sense of ensemble between Riner and Leung.
Mariana Gariazzo and Mary Karen Clardy performed Efrain Amaya's flute duet, Pathways. Gariazzo shared that Amaya is a Venezuelan composer who lives and teaches in the United States and that this work was inspired by a Spanish book that translates as "The Teachings of the One." An alternating interplay between the two flute parts featured a shared melody and running passage that reminded me of The Moldau in the way the parts alternated throughout. Gariazzo and Clardy's matched tone and timbre made them sound seamless.
The world premiere of Ingrid Stölzel's Leonardo Saw the Spring was performed next by Sophia Tegart and pianist Michael Seregow. Its four movements were Leonardo Saw the Spring, Leonardo Drew the Blooms, Leonardo Loved the Still, and Leonardo Drew in Spring. The first movement was slow, delicate, and reflective, featuring stunning pitch bends by Tegart. Of the four movements, the second one was the liveliest, with great chemistry between Tegart and Seregow and energetic rhythms. Movement three opened with a flute cadenza in which Tegart's tone really shined. Her tone was stunningly open, centered, and resonant with a magical last note that seemed to decrescendo gracefully into thin air. Articulated low-register passages opened movement four with a mysterious and conjuring feel as the piece built melodically. Tegart and Seregow performed as a wonderful ensemble with sensitive playing.
The Pittsburgh Professional Flute Orchestra closed the program with three works by Pittsburgh composer Gay Kahkonen. "SPY!" is for six C flutes and integrated themes with a spy vibe, a bit of a jazzy flair, and technically demanding passages on first flute, which Dan Parasky performed expertly. "Tangoed Up," for solo flute, was a short, lively, and fresh piece that again featured Parasky's technical prowess and resonant tone, particularly in the high register. The ensemble closed with "Summertime Romp," for two piccolos, four C flutes, alto, and bass. Like a musical collage, this piece's lively and lyrical melodies felt like the many moods of a fun summer. The Pittsburgh Professional Flute Orchestra is comprised of excellent flutists who performed with great intonation, style, and ensemble.
This was a fresh and enjoyable early concert as one of the first performances of the convention's four days. All of the ensembles nailed their performances, and the program included something for everyone. The pieces were notably all performed by living composers, so we can hopefully look forward to more works by them in the future!
Mary Karen Clardy and Mariana Gariazzo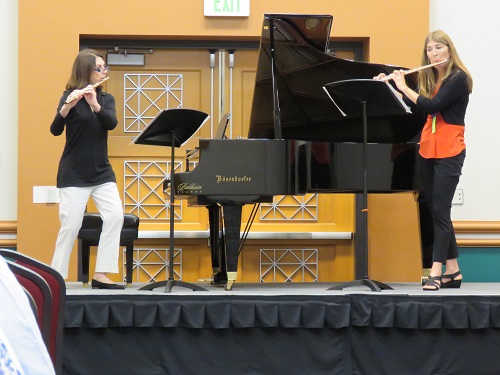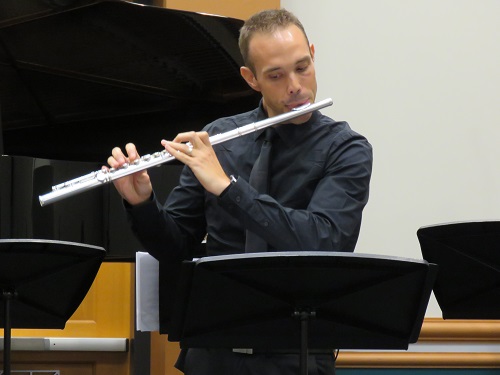 Pittsburgh Professional Flute Orchestra