Masterworks by Master Teachers
by Leonard Garrison
This concert featured terrific performances by four of America's leading flutist pedagogues of not quite "masterworks" in the sense of firmly established repertoire, but of lesser-known but excellent works.
Jonathan Keeble, professor of flute at the University of Illinois, and pianist Dianne Frazer led off with the "Fantasy on themes from Weber's Der Freischütz" by Paul Taffanel (1844–1908). Early in his career, Taffanel wrote four opera fantasies, a genre that was popular at the time but that fell out of favor in the 20th century. Of the four fantasies, Der Freischütz presents the greatest technical challenges. Keeble was more than equal to the task, and his dazzling performance would have earned a first prize at the Paris Conservatory.
Linda Toote teaches at Boston University and the Boston Conservatory, and her performance with pianist Katie Leung of the Sinfonische Kanzone, Op. 114 by Sigfrid Karg-Elert (1877–1933) was a revelation. This German composer is best-known for his 30 Caprices, which progress from a late Romantic style to 20th-century innovations. Op. 114, in the style of Richard Strauss, is a ternary-form work in which the lyrical outer sections surround an agitated interlude. Connecting the middle section to the reprise is an extended cadenza with gestures familiar to devotees of the 30 Caprices.
Bonita Boyd, professor of flute at the Eastman School of Music, and Leung performed the Sonata by Verne Reynolds (1926–2011), former professor of horn at Eastman. Their performance convinced anyone in attendance that this work should be played more often. Over the course of 21 minutes, its four movements span a wide expressive arc from moments of extreme stillness to a celebration of virtuosity.
The final work on the program was the Sonata No. 1 (there is a more recent Sonata No. 2) by Mexican-born composer Samuel Zyman (b. 1956). John Thorne, associate professor of flute at Northwestern University, and Frazer brought out the intensity, virtuosity, and lyricism of this major work, which presents equal challenges to the flutist and the pianist.
Dianne Frazer and Jonathan Keeble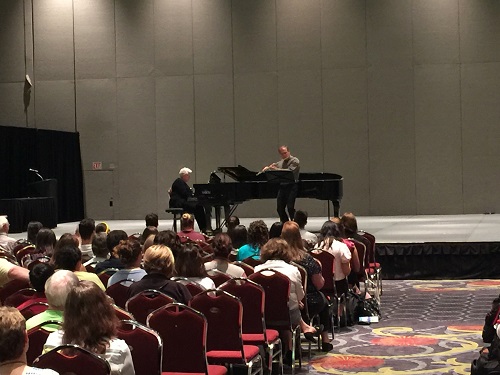 Frazer and John Thorne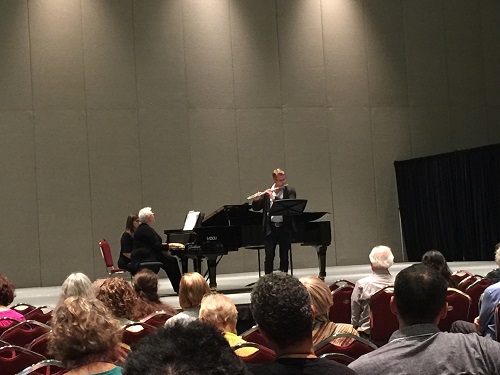 Bonita Boyd with pianist Katie Leung