by Leonard Garrison
This successful pair of presentations on two unrelated topics featured Patricia Harper and Hannah Porter Occeña in the first portion and Ginny Tutton in the second.
Harper and Occeña discussed the convoluted history of the Sonata by Sergei Prokofiev (1891–1953). Harper summarized and updated her article, "Prokofiev's Sonata for Flute and Piano in D Major Opus 94: From Manuscript to Performing Editions—An Entangled Evolution" (The Flutist Quarterly, fall 2003). Inspired by the French-American flutist Georges Barrère (1876–1944), Prokofiev first conceived the piece as a sonata for flute and piano. Nicolai Kharkovsky and pianist Sviatoslav Richter first performed it in Moscow on December 7, 1943, but it was not a public performance.
The great violinist David Oistrakh heard the piece and convinced his friend Prokofiev to adapt it for violin and piano and performed this version publicly in Moscow on June 17, 1944. Soon after, Joseph Szigeti premiered the Sonata in Boston, the first in a series of many performances that established the work in the violin repertoire before it become known as a flute work. The earliest edition of the piece was its violin version, and subsequent flute publications edited by Carleton Sprague Smith and Jean-Pierre Rampal were both based on the violin version.
Harper obtained a copy of the manuscript in 1993 and found that the composer's original conception contained many differences of register, articulation, and phrasing. She has been waiting for many years to be able to release an "Urtext" edition of the flute sonata and now says this is imminent; its release promises to be a revelation.
Porter Occeña provided a chronology of recordings on both violin and flute since early 1950s. Again, the work was established as a violin sonata before it became a mainstay of our flute repertoire, and flute recordings have been highly influenced by violinists.
Ginny Tutton discussed performances and pedagogy of William Kincaid (1895–1967), former principal flutist of the Philadelphia Orchestra and, as faculty at the Curtis Institute of Music, mentor to entire generation of flutists. From the 1950s through the late 20th century, nearly every principal flutist in major American orchestras had studied with Kincaid.
Tutton provided a detailed analysis of three recordings of the opening solo to Debussy's Prelude to the Afternoon of a Faun, all featuring Kincaid as the solo flutist under the baton of Leopold Stokowski. These recordings are available at Stokowski.org.
Tutton explained that some of the differences in the recordings are due to changes in recording technology from acoustic to electric methods, but other differences are due to Kincaid's evolving style of playing. In 1924, he employs a fast vibrato typical of his teacher Georges Barrère, and he takes two breaths in the solo. In 1927, he plays the solo in one breath, with a faster and more consistent tempo. The 1940 recording, which Tutton clearly favors, is slower, shows more flexibility in pacing and vibrato, and has two breaths.
Tutton then referred to John Krell's book, Kincaidiana (in its second edition published by the NFA), for Kincaid's ideas on resonance and tone quality. Each flutist has a different tone based on physical attributes. Kincaid advocates using different vowels to change tone color and practicing varied vibrato speeds and amplitudes.
Hannah Porter Occeña and fans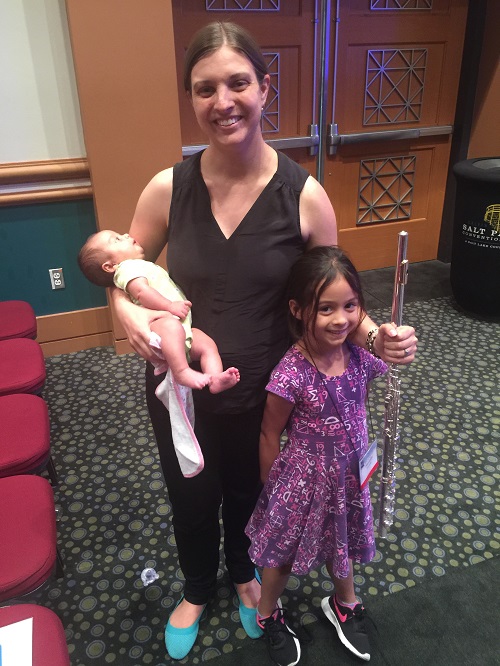 Ginny Tutton