by Heidi Álvarez
Young talent at the NFA is in abundance, and the 2019 Young Artist Competition Quarterfinals was comprised of a stellar group of performers. The best thing about this year's young artist candidates is the great diversity of talent and artistry that they put forth. These 15 artists are groundbreaking in their highly moving and individual interpretations. It was a privilege to hear these fantastic young artists, and although only three finalists were chosen in the end, every one of them is most certainly a winner. They remind me of what makes our flute community strongest—passion, zeal, professionalism, camaraderie, and unyielding creativity.
The 2019 competitions were expertly coordinated by Daniel Velasco, and the quarterfinal judges were Helen Blackburn, Jacqueline Cordova-Arrington, Susan Goodfellow, Katherine Borst Jones, and John Lane.
The fifteen quarterfinalists, in alphabetical order, were Meghan Bennett, Peiyao Cheng, Nicole Frankel, Spencer Hartman, Jeiran Hasan, Michael Hoover, Jean Lee, Won Lee, Drew Powell, Brendan Ryan, Denis Savelyev, Katherine Scholl, Jae Eun Shin, Antonina V. Styczen, and Yi Xiang. Each quarterfinalist performed the Telemann Fantasie in A Major, TWV 40:02, the Liebermann Soliloquy, and the Ran East Wind.
The six who advanced to the semifinals round were Jeiran Hasan, Won Lee, Jenny Shin, Denis Savalyev, Antonina Styczen, and Yi Xiang. Three advanced to the finals. The results had Won Lee in third place; Denis Savalyev in second place; and Antonina Styczen, who also won the award for the best performance of the new work, in first place.
The 15 Young Artist Competition Quarterfinalists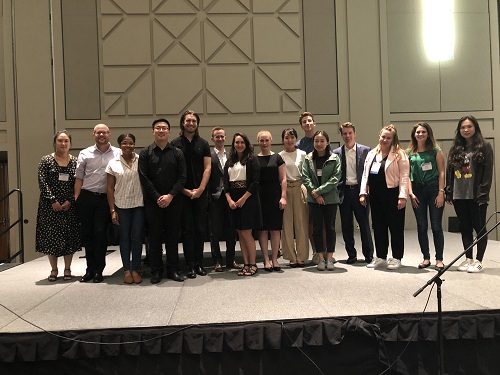 Competition Coordinator Daniel Velasco