Performing Arts Health and Wellness in Arizona
Jul 26, 2023, 15:15 PM by Noah Cline
By: Francesca Leo and the Performance Health Care Committee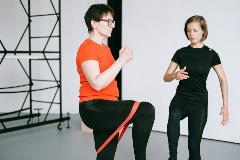 Phoenix, like the majority of major US cities, has a booming flute community. An active musical community comes with a great need for health and wellness advocacy for musicians–especially in parts of the US where the heat skyrockets in the summer. Excessive heat can cause additional challenges for flute playing, with players facing quicker fatigue, dehydration, and many other physical side effects. And this is all happening on top of the many challenges musicians already face throughout their daily lives!
Fortunately, Phoenix has a strong presence of performance health. We were pleased to see that the Arizona Academy for the Performing Arts is expanding their health and wellness team for their musicians, OSR Physical Therapy and Foothills Sports Medicine Physical Therapy offering specific performing arts injury services near Phoenix, a presence of Body Mapping and Alexander Technique, and–in an intersection of arts and health–a vast amount of research and advocacy for the positive impact that the arts can have on the wellbeing of society in general.
Way to go, Phoenix!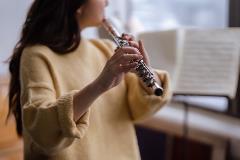 As always, if you are experiencing ongoing pain or discomfort while playing your instrument, a performance-related injury, or other health-related challenges, we strongly recommend seeing a medical professional. For a great resource on how to find performing arts health specialists near you (including in Phoenix), check out the Performing Arts Medicine Association's Referral Directory here.



If you're looking to learn more about performing arts health and flute playing, come check out these presentations by members of the NFA Performance Health Care Committee at the following sessions during the 2023 NFA Convention in Phoenix!
Saturday, August 5
1:15-1:45 p.m.
222 AB
Looking Outside the Box: Paths for Overcoming Embouchure Dystonia
Musician's Task Specific Focal Embouchure Dystonia is a complex, variable neurological movement disorder characterized by involuntary muscle contractions in the muscles of facial expression. Retraining movements using neuroplasticity is a successful treatment for regaining playing ability. Presenters: Holly Clemans and Anna Detari.
Sunday, August 6
1:30-2:30 p.m.
228 AB
Hypermobility, Ehlers-Danlos Syndrome, and Flute Playing
An overview of joint hypermobility and the connective tissue disorder Ehlers-Danlos Syndrome. Attendees will learn how to test for joint hypermobility, other related symptoms, and strategies for implementation in flute playing and teaching presented by Simone Maurer. Please note: this session includes two different presentations, with the Performance Health Care committee session beginning around 2 p.m.
Looking for opportunities to speak with members of the Performance Health Care committee in-person? Consider joining us for our Movement Sessions occurring from 12-2 p.m. on Friday, August 4th in the exhibition hall at the NFA Committees Booth! Come with your flute and any concerns you may have about experiencing pain or discomfort while playing. There will be an opportunity for you to play in front of performing arts health and wellness professionals to receive feedback.
We can't wait to see you at the convention, and as always, you're welcome to submit any questions you may have to our question forum through our NFA webpage here. To learn more about our committee, you can do so by visiting our webpage.