Inclusion, Diversity, Equity and Accessibility Committee

Mission
The Inclusion, Diversity, Equity and Accessibility (IDEA) committee is actively advocating for a flute community whose members have diverse cultures, backgrounds, and life experiences. We aim to honor freedom of expression, ideals of citizenry, and civility of discourse as fundamental to personal, professional, and organizational growth.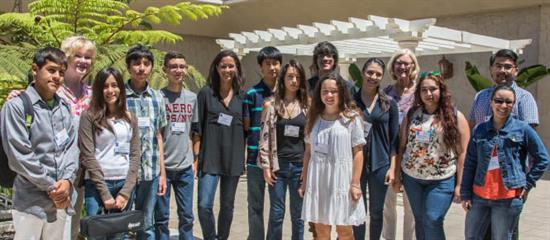 Members of 2016 Cultural Outreach Committee, Eileen Grycky, Jan Angus, and Jennifer Grim, along with NFA Student members Rodrigo Corral and Dafne Guevara, host scholarship students from Mexico during the NFA Convention in San Diego.
Our committee strives to engage and celebrate flutists of all walks of life, including but not limited to people whose voices have been historically underrepresented or marginalized, such as:
BIPOC (Black, Indigenous, and People of Color)
LGBTQ+ (Lesbian, Gay, Bisexual, Transgender, Queer/Questioning, and Others)
Latinx (gender-neutral word for people of Latin American descent)
AALANA (African American, Latino, Asian, Native American)
Donate
IDEA scholarship programs are made possible through the NFA's General Endowment Fund. If you are interested in supporting our programs, please consider making a donation—your support could make all the difference for a promising young flutist!
"A Flutist for All Seasons"
This vlog features member-flutists who represent the diverse backgrounds, cultures, and experiences the NFA embraces. Click below to view the videos on the NFA YouTube channel!
Activities
Learn more about the scholarships, mentoring, and activism the committee helps to promote.
Resources
Take advantage of BIPOC musical resources collected from across the country and around the world.