High School Soloist Competition
2023 Competitions are now closed. Thank you to all who entered!
The 37th annual High School Soloist Competition will feature eight finalists (selected based on their recorded round audition) competing at the 2023 NFA Convention in Phoenix. Cash prizes of $1,000, $500, and $300 will be awarded to the finalists. In addition, the $400 Geoffrey Gilbert Scholarship will be awarded to the first-place winner, to be used for further flute study with any teacher who is a member of the NFA. The $100 Deveau Scholarship will be awarded to the finalist who gives the best performance of the NFA commissioned work.

In addition to the eight finalists, three flutists will be selected from the recorded round to participate in the High School Masterclass led by Orlando "Maraca" Vallé at the 2023 NFA Convention in Phoenix. Other entrants may, upon unanimous recommendation from the recorded round judges, receive certificates of merit in recognition of the high quality of their work.


All entrants must meet BOTH of the following requirements:
have been enrolled and in good standing as full time students in grades 9-12 or the equivalent during the 2022-2023 academic year.
be between the ages of 14 and 19 on the first day of the convention. Entrants may be required to show proof of age.
Previous first-place winners of this competition are ineligible to compete again.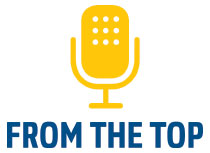 All High School Soloist Competition applicants are strongly encouraged to submit an application to participate in NPR's From the Top Learning & Media Lab Fellowship. Beyond recording for an appearance on our radio program, participants will join a cohort of peers completing an online curriculum covering a range of topics—exploring career opportunities in the arts, audio production, community engagement, and more. For additional information, click here. Names of finalists in the NFA High School Soloist Competition will be shared with the From the Top team.

Competition Requirements*
All flutists must be current NFA members at the time the entry is submitted. If chosen to perform or present during the convention, flutists must also be current members at the time of the convention and register for the convention by July 1, 2023. To join or renew, go to nfaonline.org/signup.
Completed entry
Uploaded files
$55 entry fee (paid during submission process)
All entrants must submit their entry, upload recordings/supplemental materials, and pay competition and membership fees by 11:59 p.m. Central Standard Time, Tuesday, February 14, 2023.
Recorded Round Repertoire
Each piece should be uploaded as a separate file in the following order. All uploaded files must be audio recordings. No videos are allowed.
Henri Büsser, Prelude et Scherzo Op. 35 (Schirmer)
Adolphus Hailstork, Flute Set, I. Moderato con anima (Theodore Presser)
All Recorded Round repertoire must be recorded WITH piano accompaniment.
Final Round Repertoire
This repertoire will be presented at the 2023 NFA Convention in Phoenix in the order of the finalist's choosing. The NFA will provide a pianist for the final round, although winners may bring a pianist at their own expense.
Eldin Burton, Sonatina for Flute and Piano, I. Allegretto grazioso (Carl Fischer)
Niccolò Paganini, 24 Caprices Op.1, No. 24 (International)
NFA 2023 Commissioned Work (to be distributed to finalists no later than June 1, 2023)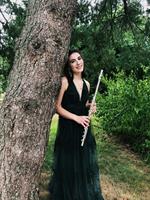 "In the midst of a global pandemic and wells of anxiety from myriad sources, many musicians (including myself) have struggled to find ways to continue to express their own artistry in familiar forms. Back in March when I was initially sent home from school, it was difficult to even pick up my flute. I was isolated from my teacher and my studio, and for a while it was a challenge to find ways to feed my own creativity. After hearing from NFA that I was selected as a finalist, I was so excited to have such an opportunity that allowed me to delve deeper into my craft while working at home. My experience with this competition was likely very different from past years and years to come, but I am beyond grateful for the wonderful way to end one chapter and start another. Thank you so much to the coordinators of the NFA's Summer Series and online competitions for 2020. I have learned so much from fellow flutists, and it has greatly helped my own journey with music over the summer."
—Delia Zaleski, 2020 winner
"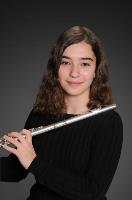 Before competing in the NFA High School Soloist competition, I had never attended a flute convention, and so even having the opportunity to surround myself with some of the most recognized, talented flute players in the world and go to concerts to hear them perform was a truly unique experience. The competition itself was also full of circumstances that pushed me out of my comfort zone. For the first time, I had to learn a piece that had never been recorded or performed before, a piece that was written specifically for the finalists to play. It required me to develop a completely personal interpretation, because I was unable to take inspiration from past performers of the work. The commissioned piece pushed me to use techniques I had never put to use, like lip pizzicatos and electronic accompaniment, which made it a lot of fun to prepare. I am so grateful to have won first place in the 2019 High School Soloist Competition; I really appreciate the opportunities that have arisen from this honor, and I wouldn't trade the experience for the world."
—Nadira Novruzov, 2019 winner
Those entering this competition may also may also be eligible to apply for the Frances Blaisdell Scholarship, which provides $1500 toward NFA convention expenses.