Ticketed Meal Events
The NFA convention hosts three special ticketed meal events that provide an opportunity for renowned speakers and honorees to share their wisdom and perspective with flutists of all backgrounds. These mealtime events are a terrific way for new and returning members to share in camaraderie and artistic inspiration. Break at midday on Friday for the Flute Lovers' Lunch, start Saturday morning with Food for the Day's Journey breakfast, and spend Saturday evening in celebration at the Gala Awards Dinner. We invite you to join us.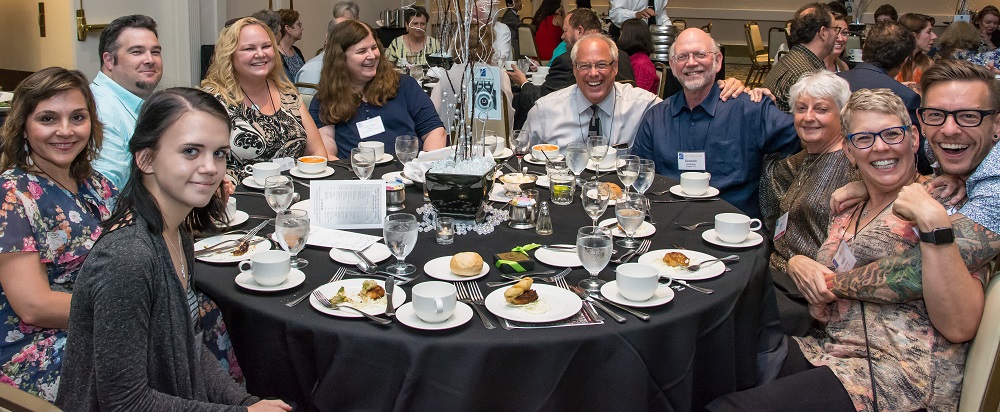 Flute Lovers' Lunch with Allison Loggins-Hull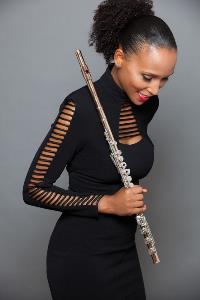 Join other flutists over a casual meal with flutist and composer Allison Loggins-Hull, who will speak about "Following Your Intuition." Allison Loggins-Hull is a flutist, composer and GRAMMY nominated producer with an active career performing and creating music of multiple genres. In 2009 she co-founded the critically acclaimed duo Flutronix with Nathalie Joachim, which was praised by The Wall Street Journal for being able "to redefine the instrument." Allison is on the flute faculty of The John J. Cali School of Music at Montclair State University. She's a teaching artist at Carnegie Hall's Weill Music Institute, The Juilliard School's Global Ventures and is a former faculty member of The Juilliard School's Music Advancement Program.
Friday, August 7, 11:30 a.m., $50 per person.
Food for the Day's Journey with Alberto Almarza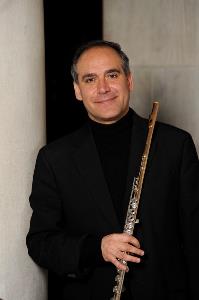 Alberto Almarza presents a breakfast talk sure to inspire flutists for the day ahead and beyond. The Carnegie Melon University professor will speak about his reflections on what he has learned as a teacher. A native of Chile, Mr. Almarza previously held the position of Principal Flute of the Philharmonic Orchestra of Santiago. He currently serves on the faculty at Carnegie Mellon as Associate Teaching Professor of Flute. He is a resident artist and member of the faculty at The Jeanne Baxtresser International Master Class and has been recently appointed to the National Flute Association Advisory Board for New Music. He can be heard on radio broadcasts of International Music from Carnegie Mellon throughout North and South America, on compact discs from New Albion, Albany Records and Centaur Recordings as well as on a recently released Naxos Records compact disc of the Flute Concerto by Reza Vali with the Boston Modern Orchestra Project.
Saturday, August 8, 8:00 a.m., $40 per person
The NFA Annual Gala Awards Dinner will honor 2020 Lifetime Achievement Award recipients Karl "Fritz" Kraber and Ransom Wilson as well as Distinguished Service Award recipient Nancy Clew.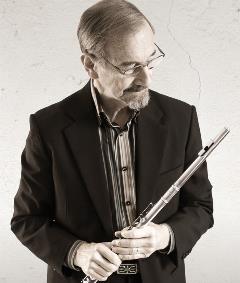 Karl "Fritz" Kraber
has performed on five continents and in 49 U.S. States as a soloist and chamber artist. He played 19 seasons with the Dorian Wind Quintet (900 concerts and a dozen recordings) and was also a member of the New York Chamber Soloists and the Aeolian Chamber Players. Also well known for his university teaching and master classes, Mr. Kraber has taught at Oberlin, Yale, SUNY Stony Brook, Indiana University, and the University of Texas, from which he has just recently retired after 21 years as Associate Professor of Flute. After earning his BA in Music from Harvard College and studying flute with James Pappoutsakis of the Boston Symphony, Mr. Kraber was awarded a Fulbright Grant for two years of study in Italy with Severino Gazzelloni. He continued his studies with Jean-Pierre Rampal and Marcel Moyse.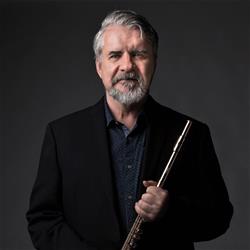 Ransom Wilson, Professor of Flute at Yale University, has long been recognized internationally as one of the greatest flutists of his generation and has performed with Chicago Symphony, Philadelphia Orchestra, San Francisco Symphony, and London Symphony among many others.
As a conductor, he has worked with the MET, Houston Symphony, London Symphony, St. Paul Chamber Orchestra, and is now the Music Director and Conductor of the Redlands Symphony.
At the 48th NFA Convention in Dallas, he will be conducting the orchestra at the Saturday Gala Concerto Concert.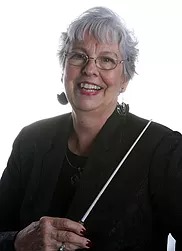 Nancy Clew
is the Founder and past Director and Conductor of the Space Coast Flute Orchestra. Encouraging flutists young and old everywhere and sharing good music has always been her goal. For forty-one years Nancy taught flute students at Brevard Community College. In 1976 she became one of the five founders and the first president of the Florida Flute Association. She also assisted in creating the Florida Summer Flute Workshop for young flutists where, for eighteen years she was a guest artist and teacher.private flute studio. Nancy has given masterclasses throughout the United States as well as the Far East and coordinated summer masterclasses for eighteen years, first for Geoffrey Gilbert and later Peter Lloyd. She has been a board member and convention coordinator for The National Flute Association and was their delegate to China in 1987 and East Germany in 1993. In 1996 Nancy founded the American Flute Orchestra, which later became the International Flute Orchestra, and has traveled and performed in over nineteen different countries around the world.
Saturday, August 8, 5:45 p.m., $125 per person; table of 10 - $1,100.
Ticket price reflects the actual cost of the gala dinner and does not include a tax-deductible donation.