Youth Flute Day
For student flutists ages 9–18
Saturday, August 13
Individual registration for Youth Flute Day costs only $25 and provides access to all the day's events. NFA membership is not required. Adult non-flutist chaperones may attend free of charge (registration is required).
For groups of 10 or more, registration is only $20 per person. For group registrations, contact Mily Harrod, Membership Manager, at mharrod@nfaonline.org.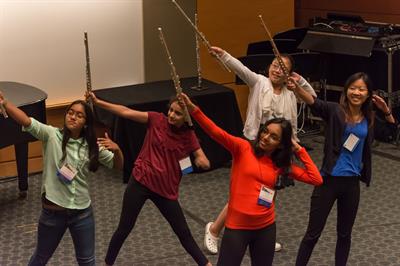 Youth Flute Day offers a vibrant schedule of events intentionally designed to spark the imagination of young flutists. During this exciting day of interactive sessions and informal conversations, participants get to connect with other young players, expand their musical toolkits, and share their talents, questions, and dreams with a welcoming roster of experts.


Please spread the word to anyone who would benefit from this event. Click here for a shareable flyer.
You may register for Youth Flute day on site at the Chicago Downtown Hilton at the following times:
Wednesday, August 10 3:00 p.m.–9:00 p.m.
Thursday, August 11–Friday, August 12 8:00 a.m.–6:00 p.m.
Saturday, August 13 8:00 a.m.–9:00 a.m.
Advance (online) registration is now closed.
Youth Flute Day Events
Windy City Flash Mob—All flutists up to age 18 are invited to join the Windy City Flash Mob! Attend the morning warm-up session to rehearse a short program of fun-filled pieces, including long-time favorites arranged by Noelle Perrin-Bryson, P. A. Génin's famous Carnival of Venice, Valerie Coleman's spirited Umoja, and a brand new work just for you by Tim Hagen. In the afternoon, perform these pieces together in the Normandie Lounge.

Flute Olympics—On your mark, get set, blow! Learn new skills, get tips to improve your playing, meet new friends, and earn prizes as you make your way through the five challenges in the NFA's 2022 Youth Flute Day Flute Olympics! From Head Joint Hurdles and a Tone Triathlon to Rhythm Gymnastics, Scale Diving, and a Sight Reading Party, there will be something for everyone.

Alexa Still's Neighborhood—Meet the flutists in Alexa Still's Neighborhood! Youth Flute Day is excited to help the NFA celebrate 50 years with a return of this popular event featuring some of today's best flutists in a casual, youth-friendly atmosphere. Alexa Still will introduce each of the flutists, who will speak about their careers and flute playing, finishing with a brief performance. Youth Flute Day attendees will have the chance to listen to and interact with some of their musical heroes in an approachable and comfortable environment.

Learn from a Pro—Expand your musical toolkit with guidance from professional flutists! Members of the NFA Diversity and Inclusion Committee will lead 20-minute mini-sessions on warm-up skills, improvisation, musicality, and technique. Rotate to each session to gather a variety of new tips for your personal practice.

Historic Flutes Room—Take a look back in time and discover why the flute you play today looks and plays the way it does. Members of the NFA Historic Flutes Committee will give a special guided tour of one of the largest collections of historic flutes ever shown at an NFA convention.

Guided Tour of the Exhibit Hall—Get a special tour of the convention exhibit hall and check out all the latest flutes, flute accessories, and more!

Youth Flute Day Schedule
All times are listed in central time.

9:00 a.m. – 9:45 a.m.
Windy City Flash Mob rehearsal
9:45 a.m. – 10:15 a.m.
Flute Olympics: Headjoint Hurdles
10:15 a.m. – 10:30 a.m.
(Break)
10:30 a.m. – 11:30 a.m.
Learn from a Pro
11:30 a.m. – 12:15 p.m.
(Lunch)


12:15 p.m. – 12:45 p.m.
Flute Olympics: Tone Triathlon
12:45 p.m. – 1:15 p.m.
Flute Olympics: Rhythmic Gymnastics
1:15 p.m. – 2:15 p.m.
Alexa Still's Neighborhood
2:15 p.m. – 2:30 p.m.
(Break)
2:30 p.m. – 3:00 p.m.
Historic Flutes Room

3:00 p.m. – 3:30 p.m.
Flute Olympics: Diving into Scales

3:30 p.m. – 4:30 p.m.
Guided Tours of the Exhibit Hall

4:30 p.m. – 5:00 p.m.
Flute Olympics: Sight-reading Party

5:30 p.m. – 6:00 p.m.
Windy City Flash Mob performance in Normandie Lounge