From the NFA Committees: What Are You Most Excited About In SLC?
Jun 14, 2019, 10:14 AM by User Not Found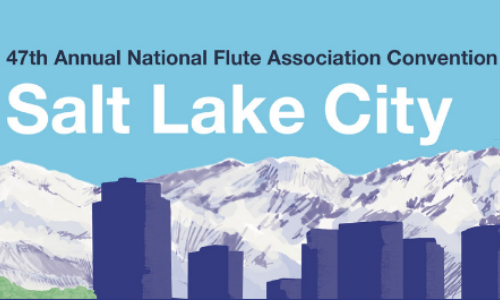 We asked the committee chairs to provide a brief summary of their committee's activities at the Annual NFA convention and what they're most excited about. Read their answers below!
View the full schedule
and the
committee exhibit hall schedule
to learn more.
---
Adult Flutist and Amateur Resources
Barb Fairman, Chair
One of the best parts of convention for me is getting a chance to connect up again with old friends, friends I have not seen in a long time, and making new friends along the way. It is a flutist's version of a family reunion, for lack of a better description, as we really are one large family. And how will I be spending my time at the convention? Enjoying the chance to gain tips from Angeleita Floyd as part of the Adult Flutist Masterclass, listening to Nancy Toff speak at the Flute Lover's Luncheon, and performing as part of the Crossroads of the West adult flute choir under the direction of Phyllis Louke. One of the fun things that I am planning on doing will be at the NFA committee booth on Friday and Sunday. The Adult Flutist and Amateur Resources Committee is hosting a flute duet/trio drop in—people can stop by, and sight read duets and trios with members of the committee. We will be there from 2–4 pm on Friday, and 2⁠–3 pm on Sunday. I look forward to seeing you all in Salt Lake City!
Archives and Oral History
Meg Griffith, Chair
Ever wonder what your favorite performers, composers, and flute-makers looked like when they were just starting out? Or who performed together? Who taught together and hung out after hours together? Thanks to the NFA archives, you can find out! Nancy Toff and I, on behalf of the Archives and Oral History Committee, will be in the exhibit hall on Sunday, August 4, at noon to display pictures, tell stories, and answer your questions about what has been going on at NFA conventions since the early days. We also would love to chat with you about what you'd like to see the AOH Committee do. We have plans to get all of our archived interviews and materials into the Library of Congress so they can be available for all to enjoy. I am working to provide you with more access to these interviews online as well, if getting to DC isn't in the cards. Speaking of which, did you know the AOH Committee holds a large collection of interviews involving many of the movers and shakers of the flute world? Did you even know the AOH Committee existed? We're a pretty fun bunch—come meet us and see what we're about! Or find me in the hallway at any time during the convention and have a chat!
Career and Artistic Development
Shelley Martinson, Chair
On behalf of the Career and Artistic Development (CAD) Committee, I'm pleased to highlight upcoming opportunities and events from the committee! I hope you'll join us for both CAD Committee sessions at the 2019 NFA Convention: Flute Hackathon and Lightning Talks: A Flash of Information in 5 Minutes or Less. I'm excited to see the introduction of the Lightning Talk presentation format to NFA and think you'll enjoy the variety of topics and fast paced structure of this event as nine selected presenters share innovative projects, fresh ideas, new approaches, and research. Of similar intensity, the Flute Hackathon is designed as a sprint-like workshop in which flutists collaborate intensely to refine and develop entrepreneurial projects. The Flute Hackathon will be led by Barbara Siesel and CAD Committee member Michelle Stanley. Additional facilitators include Nicole Chamberlain and Morgan Pappas. Each group will briefly present their project at the close of the event.

The CAD Committee continues to offer monthly Career Check mentoring sessions. These meetings take place online throughout the year and in person at the convention. Please visit the NFA website for more details or to sign up! Feel free to stop by the booth even if you missed the online sign up deadline—you can also reserve open times on paper at NFA Committee booth 616. Also, stay tuned for the release of more CAD Career Chats on the NFA Youtube Channel, including videos featuring Valerie Coleman, Katherine Isbill Emeneth, Jonathan Keeble, and Emma Shubin.

Looking forward to seeing you soon!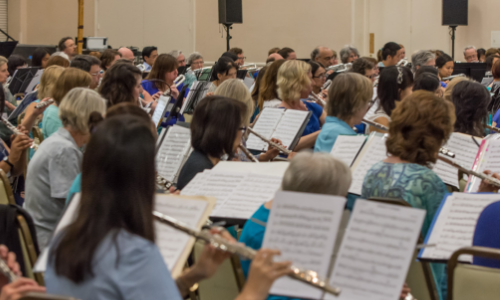 Flute Choir
Kelly Sulick, Chair

Greetings, everyone! The Flute Clubs Committee has been working hard to bring you some fabulous convention offerings this summer. We're particularly excited about our exciting interactive workshop, so we're kicking the convention off right with "Striking the Right Chord: Crafting Dynamic Flute Choir Arrangements" on Thursday at 10:15 am. We've assembled a team of expert composers and arrangers to answer your burning questions about flute choir arrangements—from selecting pieces, to promoting and publishing your arrangements, to solving common balance and blend problems—this panel has seen it all, and can help you overcome common hurdles! After answering questions on general topics, our panelists will also meet individually with anyone who has a score in-progress they need a little help with—so be thinking about what projects you need help with, and bring your scores to Salt Lake! Our team of experts includes Nicole Chamberlain, Matt Johnston, Daniel Kessner, Ricky Lombardo, and Phyllis Avidan Louke!

The Flute Clubs Committee is always happy to hear your suggestions for what you want to see at the convention—and many of you have asked us about how to start your own flute clubs and choirs! This year, we're hosting a panel about how to start a flute club on Sunday at 11:30. We'll have information on how to get started, what you can do to recruit and retain members, how to find a conductor for your ensemble, how often you should host events and meetings, whether to form a non-profit organization…all the nitty gritty! Come with your questions, because we'll leave time for audience Q&A at the end of the session.

On behalf of the Flute Clubs Committee, I can't wait to see you all in Salt Lake!
International Liaison
Carla Rees, Chair

Although the NFA is based in the United States, the International Liaison Committee helps to connect flute players from all over the world. We have committee members from 15 different countries who help to share information about events, flute news, repertoire and anything else flute-related within their home countries. We also forge close links with other flute associations around the world, including the British Flute Society and the Japan Flute Association.

The NFA convention is one of the biggest flute gatherings in the world, and I will be writing to international visitors in July with details of an informal welcome meeting, hosted by members of the committee. This is a chance to make new contexts, catch up with old friends and become part of the NFA's international community. We hope to see you there!
Low Flutes
Paige Dashner Long, Chair
Are you coming to Salt Lake City and looking for low flute events? It's not too late to sign up for the "Double Down Throw Down" Open Low Flutes Ensemble. Directed by Chris Potter, this low flute ensemble, open to any convention participant, will premiere a wonderful new piece by Jonathan Cohen—"The Forbidden Forest." I encourage you to be a part of this exciting performance, as we attempt to break the record set by last year's open low flute ensemble in Orlando that premiered Greg Lutz's "The Terrible Tubes Take Over the Town". If you would like to participate, you need to sign up for the event, at no additional cost. After you sign up for the ensemble, you will receive your music and rehearsal schedule.
Another exciting new low flute event during convention is the first NFA Alto Flute Artist Competition, featuring finalists playing for a panel of judges. Additional low flute events during convention include several premieres of new pieces for low flutes, performed by virtuoso flutists, technique workshops that focus on playing low flutes without pain and improving your high register, as well as a reading session for low flutes.
If you have any ideas or suggestions for the low flutes committee, please feel free to contact me. The committee welcomes your thoughts.
I hope to see you in Salt Lake City!
New Music Advisory
Sarah Brady, Chair
Every year the NFA commissions new solo flute works for the High School and Young Artist Competitions. The New Music Advisory Committee nominates the composers each year with a rigorous listening and a voting process held often two years before the actual premieres—we are currently listening to composers for the 2021 competitions!
Mary Kouyoumdjian composed the High School Competition piece,
Peony,
which will be premiered by Marianne Gedigian on the Varied Visions concert at 1:30 on Sunday, August 4, in 251 AB. Alexandra Gardner composed
Fade
for the Young Artist Competition, which will be premiered by Hilary Abigana on Chamber Music Summit 4, Sunday, August 4, at 2:00 in Ballroom G. You can also hear each work interpreted by the competitors for the High School Soloist Competition on Thursday, August 1, 10:15 am in Ballroom B and for the Young Artist Competition Semi-Finals: Friday, August 2, 10:00 am in Ballroom B. It has been a joy working with these composers this year, and we are thrilled to hear these pieces premiered. Both composers will be in attendance at the convention.
You can also hear the NMA Committee in performance for MOSAIC: A Collage of Composer-Performer Collaborations, which is a concert of music commissioned and performed by the player it was written for. This concert will be presented in a collage style using the entire space of the ballroom and presenting pieces without break on August 3, from 1–2:30 in Ballroom F.
Past Presidents
Katherine Borst Jones, Chair
The Past Presidents' Council is made up of all the past presidents of the National Flute Association and serves as an advisory committee to the full board of the NFA, advising on any topics appropriate and brought to its attention by the president. The council makes recommendations based on the experience, expertise and interest of its members, meeting once during each convention, usually on Sunday morning. At the Salt Lake convention, past presidents will be taking part in flute choir reading session as a way to interact more with members. The chair of the council serves a two year term. Past presidents continue to serve the organization in all capacities.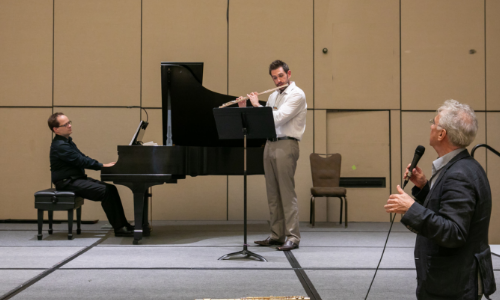 Pedagogy
Cassandra Eisenreich, Chair
We have so many incredible activities at the convention including our Food for the Day's Journey Breakfast with Marianne Gedigian, the High School Masterclass with George Pope, and the return of our wildly popular The Art of Giving a Masterclass for the College Interview Process with guest clinicians Eva Amsler, Leone Buyse, and Angeleita Floyd. New this year, we will be hosting a set of "How to Teach" demonstrations in the Exhibit Hall throughout the convention. Be sure to check out the convention schedule to catch the topics you want to explore! Stop by and join in the fun! See you in Salt Lake City!
Performance Health
Angela McCuiston, Chair
We have had some really exciting things in the works with the Performance Health Committee this year and are excited for the new website and the upcoming convention! We have started a column in
The Flutist Quarterly
addressing flutist health concerns and would really like to address them from a multi-faceted point of view, so please, send us your questions! We're also delighted to announce that after popular demand, we've been able to secure a "quiet room" in the convention center so you can decompress without having to leave the building. At our booth at the NFA convention this year we will be doing Q&A sessions before or after each of our committee member's sessions. Stop by for our popular "The Doctor is IN" sessions to ask your health related questions to our resident doctors, and you can also check in on Thursday from 3⁠–4 pm for mini life coaching sessions with Sue Hurwitz Q&A sessions on "Women's Health, Cancer, and the Flute" and "Anxiety, Depression, and Stage Fright" will also be at the booth so check your app for times! Francesca Leo will be giving a talk on her research on musician injuries and resources on Friday as well. We really encourage you to stop by the booth and let us know your questions and health related concerns so we can continue to make a better convention and committee addressing your needs going forward.
Youth Engagement
Timothy Hagen, Chair

Hi there! If you are reading this, you are likely one of the youngest members of our flute community or a parent or teacher of a young member. Wherever you fit on this spectrum, the Youth Engagement Committee welcomes you and wants to be a resource for you and your journey with the flute year-round. Feel free to contact us at
youthfluteday@nfaonline.org
anytime with questions, and we'll do our best to help!
Our biggest ongoing initiative is our Youth Flute Day (YFD), a full day of special events at our yearly convention, targeted at players aged 9-18. This year, YFD will include brand new events, such as a workshop for learning through play, the sightreading olympics, and a performance/presentation about the Glissando Headjoint, a super cool, relatively new flute innovation. The day will be as much about fun as about discovery!
In our ongoing efforts to make the NFA experience more and more accessible to young players, YFD attendees will be able to bring a parent to this year's convention at no extra charge. We hope to see you in Salt Lake City!