Welcome to Phoenix – A Practical Guide for Navigating the City
Jul 14, 2023, 13:19 PM by Noah Cline

This post is inspired by Christina Steffen's Flutist Quarterly article, Get Ready For Phoenix (read the full article here – log-in with NFA credentials required).
We're all looking forward to gathering in Phoenix for the 2023 NFA Convention! The city is the fifth largest in the country, surrounded by lovely mountain ranges and known for colorful sunrises and sunsets. The Phoenix Convention Center is one of the premier convention and event destinations in North America, and the expanded, remodeled, and updated facility is a stunning combination of beauty and practicality with the largest ballroom in the state as well as interior access to Symphony Hall for the Saturday Gala Concert and Sunday's Closing Concert.
The average temperatures in August are 104 for the high and a low of 84. It sounds hot, but air conditioning is everywhere, and the humidity is low. It is important to stay hydrated in the dry desert climate. Bring a hat if you plan to be outdoors for any length of time.

To help you navigate the city, please click here to download a map provided by Downtown Phoenix.
The Convention Center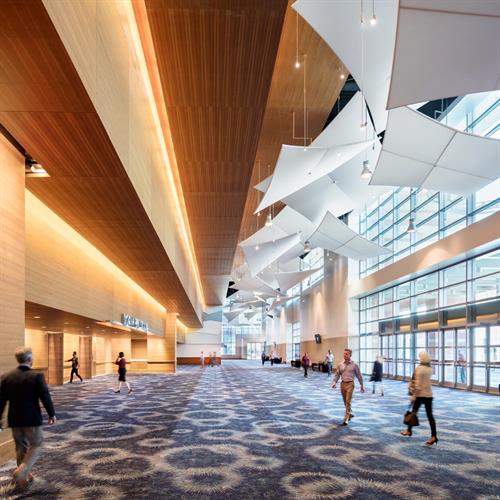 The convention center is easy to navigate and contains a state-of-the art food court with an array of choices, including Asian and Mexican cuisines, pizza, sandwiches, healthy options, and fresh locally roasted coffee. The seating is comfortable and the wi-fi is free. See the list of vendors and schedule below.
The Convention Center is in the center of a vibrant and walkable downtown just 10 minutes (four miles) from Sky Harbor airport. Transportation options from the airport include taxis or rideshares in the $20-$25 range or public transportation via the Valley Light Rail which goes directly from the airport to the convention center/hotel. The fare is $2, $1 for seniors. The ticket machines take cards, but it is recommended to bring dollar bills in case the card option is not working (as was the case during one of the site visits).
Note that the platform and waiting area for trains is outside and it will be hot. To access the Valley Light Rail, take the free PHX Sky Train from Level 3 of Terminal 4 to the 44th Street PHX Sky Train Station. Purchase a ticket and take the train to 3rd Street & Washington, very close to the hotels. More information and hours are available here. Check out the Visit Phoenix website for more transportation information. The Downtown Phoenix website also has extensive information on places to go and upcoming events.
Note that you will enter Convention Center West from the hotel and walk through inside to Convention Center North, where the NFA convention is taking place.
Help is Never Far Away
At the Convention Center, in addition to concierge/guest services, guest representatives in gray/black uniforms are stationed strategically to assist guests with finding a meeting, a place to eat, or where to fill a water bottle.
Also look for any staff member with a black ribbon and a small blue badge, who will be happy to help you. Our two volunteer coordinators, Townes Osborn Miller and Margaret Haik will be available at the Volunteer Information Desk in registration to assist with your volunteer sign-up and duties. And if you have a short block of unscheduled time – or a guest who would like to be helpful – be sure to visit them and sign up.
Look for pink-shirted Phoenix Destination Experts located near the registration area or the main hall for maps, dining recommendations, business discounts, and directions to sessions as well as things to do and see in downtown, Greater Phoenix, and Arizona.
When you are out and about in downtown, you may see people in orange shirts with ASK ME printed on the back. These are the Downtown Phoenix Ambassadors, and they are happy to give you directions, supply you with water, or escort you to your hotel or vehicle.
The NFA Hotels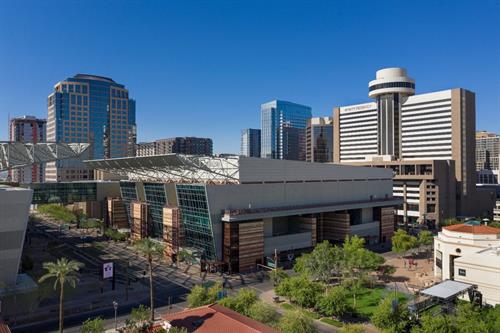 The Renaissance Hotel is one block from the convention center, and the Hyatt Regency is only 52 steps away. Both hotels have a range of facilities, along with grab-and-go eateries (Starbucks at Renaissance) and excellent restaurants. The Hyatt has a microwave on each floor and all rooms have mini refrigerators. Both hotels have a fitness center and swimming pool.
Parking is available in the Hyatt parking garage near the hotel. A 25% discount is available for self-parking for convention attendees (not available for valet parking). More information is here: https://www.hyatt.com/en-US/hotel/arizona/hyatt-regency-phoenix/phxrp/maps-parking-transportation. Parking fees are $30 per day before the discount. Parking at the Renaissance Hotel is $39 per day (no discount offered). It is recommended that attendees use the hotel parking garages.
Local Amenities
Fry's Food Store and pharmacy at 100 E. Jefferson is a few minutes away and has a full range of grocery supplies (from the Hyatt, take a right, walk to E. Jefferson and it's on the right). A large CVS store is located about 6-8 minutes away, between E. Jefferson and W. Washington at the Cityscape Shopping Mall. See map below. Note that the Renaissance Phoenix Downtown Hotel is #25, Hyatt Regency, #24, entrance to the convention center is #11.

Restaurants
The downtown area has a vast selection of restaurants for all budgets, including up-market locations, vegan options, and a wide variety of international cuisines. You can find information about all the local eateries here.
FEDEX, UPS & the Post Office
FedEx Office Print and Ship Center (packaging supplies and shipping center) one block from the Hyatt Regency Hotel, on the corner of Washington Street and North 2nd Street, and North 1st street by the Renaissance Downtown Phoenix Hotel.

UPS Store, North 2nd Street opposite the lobby of the Hyatt Regency Hotel

US Post Office - 522 N Central Ave Lbby, Phoenix, AZ 85004 (about 6 blocks away)
Convention Center Food Hall Schedule
The food hall is located on the 1st floor of Convention Center North, near the registration area. There are also some options in the Phoenix Convention Center West, the nearest entrance from the hotels.
Food Vendors at the Pheonix Convention Center
THURSDAY & FRIDAY
WEST BUILDING
Starbucks - Atrium Hours: 7AM - 5PM
PHX Public Pantry - Atrium Hours: 8AM-6PM
Huss Brew Pub - open daily from 11am-9pm
NORTH BUILDING
PHX Coffee Co – Food Hall Hours: 7 AM - 7PM
Hecho Een Arizona - Food Hall with breakfast Hours: 8AM-2PM
John Dough Pizza - Food Hall Hours: 11AM - 6PM
Crave Box - Food Hall Hours: 11AM-4PM
SATURDAY ONLY: SYMPHONY HALL – CASH BAR 7 – 10PM
SATURDAY & SUNDAY
WEST BUILDING
Starbucks - Atrium Hours: 7AM - 5PM
PHX Public Pantry - Atrium Hours: 8AM-6PM
Huss Brew Pub - open daily from 11am-9pm
NORTH BUILDING
PHX Coffee Co – Food Hall Hours: 7 AM - 7PM
Hecho Een Arizona - Food Hall with breakfast Hours: 8AM-2PM
John Dough Pizza - Food Hall Hours: 11AM - 6PM
Tenders Love & Chicken - Food Hall Hours: 11AM - 2PM
We hope that you will love your time in Phoenix and feel inspired by the city's sights and sounds. If you'd like to learn more, we recommend browsing the
Visit Phoenix
or
Downtown Phoenix
websites. A map of downtown Phoenix is available
here
.
The 2023 NFA Convention will take place from August 3rd - 6th in the Phoenix Convention Center. While Advanced Registration is no longer available, guests may register on-site beginning August 2nd. Learn more about the Convention here.