The 49th annual Young Artist Competition for outstanding flutists will include 15 qualifying round contestants chosen from the first recorded round to compete at the 2024 NFA Convention in San Antonio. These contestants will perform an unaccompanied audition on Wednesday (the day prior to the convention). A panel of judges will select six of these contestants to compete in the semifinal round and will then choose three finalists to appear in a final round. The NFA will provide a pianist for the semifinal and final rounds, although contestants may bring a pianist at their own expense.
Cash prizes of $8,000, $4,000, and $2,000 will be awarded to the finalists, as well as $100 to each semifinalist not chosen as a finalist. An additional $250 prize will be awarded to the finalist with the "Best Performance of the Newly Commissioned Work" supported by
The Paul Taub Fund
. The NFA will present the first-prize winner in a performance at its 2025 convention and honor the winner in The Flutist Quarterly.
Previous first-place winners of this competition are ineligible to compete again in this event.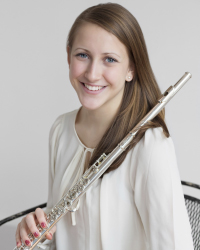 Involvement in the National Flute Association is crucial to a young flutist's life. I have greatly benefited as a flutist through my preparation for the four NFA competitions I've done. In addition to requiring intense practice on the required repertoire, applying to these competitions requires the skill to achieve high-quality recordings and excellent time-management and organization. Involvement in these competitions also provides an excellent opportunity to attend the annual convention, where you will learn, grow, and find incredible inspiration from the world's finest flutists.
-Hannah Hammel, 2016 winner of the Young Artist Competition
Competition Requirements*
AGE REQUIREMENT: All entrants must be 30 years of age or younger by the last day of the convention (born on or after August 5, 1993). Entrants may be required to show proof of age.
All flutists must be current NFA members at the time the entry is submitted. If chosen to perform or present during the convention, flutists must also be current members at the time of the convention and register for the convention by July 1, 2024. To join or renew, go to nfaonline.org/signup.

Completed entry
Uploaded files

$100 entry fee (paid during submission process)
All entrants must submit their entry, upload recordings/supplemental materials, and pay competition and membership fees by 11:59 p.m. Central Standard Time, Wednesday, February 14, 2024.
Recorded Round Repertoire
Each piece should be uploaded as a separate file in the following order. Movements may be uploaded separately if you choose. All uploaded files must be audio recordings. No videos are allowed.
Darius Milhaud, Sonatine (Durand)
Olivier Messiaen, Le Merle Noir (Alphonse Leduc)
Nicolas Chédevelle (att. Antonio Vivaldi), Sonata in G Minor, Op. 13, No. 6 "Il Pastor Fido", III. Largo and IV. Allegro ma non presto (any edition)
All Recorded Round repertoire must be recorded WITH piano accompaniment.
Quarterfinal Round Repertoire
This repertoire will be presented at the 2024 NFA Convention in San Antonio. All repertoire will be performed unaccompanied.
Johann Sebastian Bach, Partita in A Minor BWV 1013, II. Corrente and III. Sarabande (any edition). Take no repeats in either movement; ornament as desired in the Sarabande.
Chen Yi, Memory for Solo Flute (Theodore Presser)
Miklós Rózsa, Sonata Op. 39 for solo flute, I. Allegro Risoluto (Faber)
Semifinal Round Repertoire
This repertoire will be presented at the 2023 NFA Convention in Phoenix. The NFA will provide a pianist for the semifinal round, although contestants may bring a pianist at their own expense.
Roberto Sierra, Sonata for flute and piano, III. With Gusto (Subito)
Valerie Coleman, Wish Sonatine for flute and piano (Theodore Presser).
NFA Commissioned Work (to be distributed to all quarterfinalists no later than June 1, 2024)
Final Round Repertoire
Each finalist shall create a program to be presented at the NFA Convention demonstrating artistic maturity, technical and tonal qualities, and knowledge of program design and balance, excluding any repetitions of recorded round, quarterfinal round, or semifinal round repertoire. Single-movement works originally written for flute with orchestra (e.g., Martin Ballade, Mozart Andante, Griffes Poem) may be performed, but all or part of multi-movement concerti (Ibert, Jolivet, or Nielsen concertos, for example) may not be included on the program. Each program should be a maximum of 25 minutes. Please time your program carefully, as all contestants will be stopped after 25 minutes. Performers may omit repeats, long introductions or interludes in the piano score, or entire selected movements or variations. Otherwise, cuts are not permitted in the final round repertoire selection. Since the YAC is primarily a C flute competition, the vast majority of final round repertoire must be performed on C flute. Works must be unaccompanied OR accompanied by piano (i.e. no works for flute and electronics or flute and harpsichord). The NFA will provide a pianist for the final round, although contestants may bring a pianist at their own expense. Final round repertoire, including titles, movements, exact timings, composer's dates, and publishers, must be included with your competition entry. Finalists will be bound by their original selections.