Sir James Galway
2009 Lifetime Achievement Award
Sir James Galway is regarded as both the supreme interpreter of the classical flute repertoire and a consummate entertainer whose appeal crosses all musical boundaries. As one of the most recorded classical artists performing today, Sir James has made himself a legend, a modern musical master whose virtuosity on the flute is equaled only by his limitless ambitions and vision. Through his extensive touring, more than 30 million albums sold, and frequent international television appearances, Sir James has endeared himself to millions worldwide. As an instructor and humanitarian, Sir James is a tireless promoter of the arts.

Sir James continues to look for new and innovative approaches to music and to life. For O'Reilly Street, his recent recording on the Sony Classical label, Sir James performs music from the jazz suites of Claude Bolling with the addition of Afro Cuban percussion. Collaborating with him on this new album is two-time Grammy-nominated Cuban music group, Tiempo Libre, known for its sizzling timba music. The recording is rich in the traditions of multiple genres, authentic yet emotionally seductive, and woven with threads of classical, jazz, and Cuban music.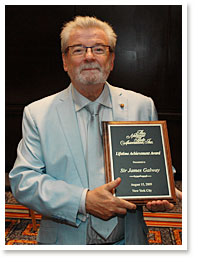 Sir James, his wife, renowned flutist Lady Jeanne Galway, and harpist Catrin Finch transported listeners on a journey through the works of Wolfgang Amadeus Mozart on the album My Magic Flute. Sir James continues to delight fans through the RCA Red Seal album The Essential James Galway (May, 2006) featuring selections ranging from Peer Gynt and Concertino for Flute and Piano, op. 107, to The Girl from Ipanema and Riverdance.

Other recent albums include Ich war ein Berliner: James Galway and the Berlin Philharmonic and Wings of Song, as well as his performances on the soundtrack to The Lord of the Rings: Return of the King. A discography of more than 60 CDs with BMG Sony Classics reflects his mastery of musical diversity.

In September 2008, Sir James opened and hosted the New York Philharmonic's season, its last under the baton of Maestro Lorin Maazel, with a concert and PBS special "Live from Lincoln Center." He also made a special guest appearance on the PBS Special "The Priests," filmed in Northern Ireland. Other U.S. highlights of this season include performances with the Chicago, Boston, Nashville, Long Island, Austin, Spokane, and York Symphonies. Joined in recital, Sir James and Lady Jeanne Galway perform with pianist Christopher O'Riley in cities ranging from Houston to Mesa, Arizona, and Waterloo, Ontario.

Other international concerts include recitals in Paris, France; CRR Concert Hall in Istanbul, Turkey; the National Concert Hall in Dublin, Ireland, and the U.K. Highlights include a tour with the Israel Camerata Jerusalem of Israel, Spain, and Switzerland; filming, recording, and concert tour with I Solisti Veneti in the Palazzo Ducale in Venice and throughout Italy; and a special performance with Maestro Lorin Maazel and the Philharmonia Orchestra in London, Cardiff, and Barcelona, performing Maestro Maazel's Concerto for Flute, written for Sir James.

Belfast born, Sir James studied in London and Paris before embarking on his orchestral career in such prestigious orchestras as the Sadlers Wells and Royal Covent Garden Operas, The BBC, Royal Philharmonic and London symphonies, and taking up the coveted position of solo flutist with the Berlin Philharmonic under Herbert Von Karajan.

Since 1975, when Sir James launched his solo career, he has performed with the world;s leading orchestras and conductors, participated in chamber music engagements and popular music concerts, and given masterclasses. From Galway's lips have come definitive treatments of classical repertoire and masterworks by Bach, Vivaldi, and Mozart. He also features contemporary music in his programs, including new flute works commissioned by him and for him by composers such as Amram, Bolcom, Corigliano, Heath, Lieberman, and Maazel.

Sir James has played for Queen Elizabeth II, Pope John Paul II, President Clinton, President George W. Bush, President George H.W. Bush, President Mary McAleese, Prince Charles, HRH The Princess Royal, The Empress of Japan, The Queen of Norway, Princess Diana, TRH The Earl and Countess of Wessex, TRH The Duke and Duchess of Kent, and President Shimon Peres, and shared the stage with Stevie Wonder, Henry Mancini, John Denver, Elton John, the Chieftains, Ray Charles, Joni Mitchell, Jessye Norman, Cleo Laine, and Andrea Bocelli. He performed with Pink Floyd in its memorable concert at the Berlin Wall, was part of the Nobel Peace concert in Norway, and performed at the G Seven summit hosted by Queen Elizabeth II in Buckingham Palace.

He conducts annual master classes, commissions new works for the flute, and publishes articles, books, and flute studies. Both Sir James and Lady Galway direct their International Flute School in Weggis, Switzerland, each summer. Galway's Web site, thegalwaynetwork.com, is devoted to all students, educators, and flute lovers worldwide.

Sir James devotes much of his free time supporting charitable organizations such as SOS, FARA, Future Talent, Swiss Artistic Foundation, The Caron Keating Foundation, and UNICEF, with which he holds the title of special representative.

Sir James received the National Flute Association's Lifetime Achievement Award in August 2009. He was inducted in the Hollywood Bowl Hall of Fame in June 2008 and was the recipient of the 2008 UMS Distinguished Artist Award at the 13th Annual Ford Honors Program. Irish America Magazine awarded Sir James and Lady Jeanne Galway the "2008 Spirit of Ireland" award, recognizing them for their roles as musical ambassadors.

Sir James was named the 1997 Musician of the Year by Musical America, and has received Record of the Year awards from Billboard and Cash Box magazines, as well as the Grand Prix du Disque for his recordings of the Mozart Concerti. His 60th birthday was commemorated with 1999's Sixty Years, a 15-CD retrospective of his works for the RCA Victor Red Seal label.

Her Majesty Queen Elizabeth II of England has honored him twice: in 1979 with an Order of the British Empire and in 2001 with a Knighthood for services to music. In 2004, Sir James was given the President's Merit Award from the Recording Academy at the Grammy's Eighth Annual "Salute to Classical Music." He was also honored at the Classic Brits Awards held in London's Royal Albert Hall in 2005, where he received the "Outstanding Contribution to Classical Music" award in celebration of his 30 years as one of the top classical musicians of our time.