Emerson DeFord
2019 Lifetime Achievement Award
Emerson DeFord has directed his career as a flutemaker with the lifelong philosophy that every instrument he creates, whether for a student or a professional, will carry the same quality of workmanship. Expertly skilled in all stages of production, DeFord has passed his knowledge along to many who continue with his legacy.
DeFord began his flutemaking career at the W.T. Armstrong Flute Company in Elkhart, Indiana, and quickly rose to the position of vice president of production in 1962. A few years later, he started the Heritage Division, where he mentored many flutemakers including Bickford Brannen, Jack Moore, Tom Green, John Yeater, and Larry Earnhart. DeFord and Mark Thomas worked together to improve the quality and design of student flutes and to develop the complete flute family (including bass, alto, E-flat soprano, C, treble G, and B-flat flutes) and, later, a wood piccolo and professional C flute.
In 1969, DeFord began production of the DeFord Flute, a new student instrument that became popular in the United States, China, Germany, Japan, and Australia. He eventually sold his successful DeFord Flute brand and took on other projects, acquiring Instrument City Pad Company, the Almeida Flute Company, and Hardy piccolos.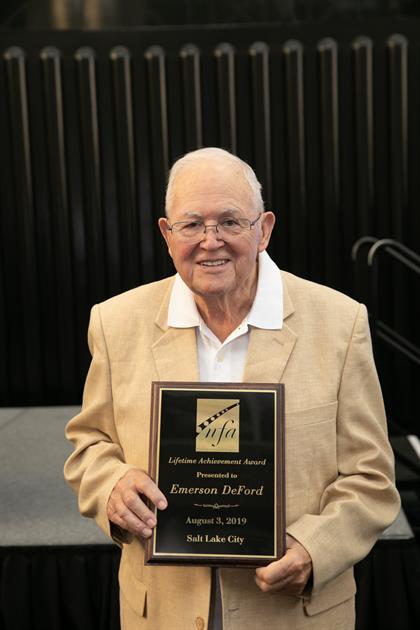 In 1978, DeFord began making a new instrument line, the Emerson Flute. With the introduction of the Emerson Flute came one of his greatest innovations, the process of prefabricating the flute so that the production of high-quality student flutes could be more efficient.
DeFord shares his passion for music and building high-quality instruments with his family. His wife, Polly, has worked beside him for years, doing everything from running the machines to managing the pad shop. His son Dean worked for him as a flute mounter for many years and then at Gemeinhardt building piccolos. While three of his children (Mark, Steve, and Laura) found careers in other businesses, they all inherited his interest in music. His stepdaughters, Christine Bertrem and Sherry Lee, and Christine's son, Brian Bertrem, credit DeFord as an invaluable mentor in the business. Both Sherry and Brian learned the craft methodically, working in every department until they knew all aspects of building and repairing flutes.
One of DeFord's most important contributions to the flute world is his work with flutists who have been injured or have developed physical conditions preventing them from playing their beloved instruments. He created specially tailored headjoint and key adaptations, modifying the angles so that the flutists could continue to play comfortably. Friends and colleagues speak of his generous nature—sharing tools, supplies, and knowledge—and his willingness to be a resource for teachers and repair technicians.
DeFord continues working for his grandson, Brian, making headjoints and piccolos and repairing flutes at one of his two workbenches: one in his Florida home and one in Elkhart, Indiana. DeFord celebrates his 90th birthday this year, and we celebrate the achievements his generosity and teaching have contributed to today's flute industry