Ervin Monroe
2017 Lifetime Achievement Award
Ervin Monroe is a musician of great versatility, flutist, composer, arranger, conductor, and entrepreneur. While in high school, he was asked to play as principal flutist in the Pensacola Florida Symphony. He then attended the Oberlin Conservatory and at age 19 studied in Austria, where he also toured as a member of the Mozarteum Orchestra in Salzburg. Monroe was offered a permanent position there, but decided to complete his musical studies in the States and vie for a spot with a major American symphony. While working on a master's degree at the Manhattan School of Music, Monroe was hired to play as principal flutist for the American tours of the world's most prestigious ballet companies, including the Bolshoi, Royal Danish, and Royal English ballets. At age 23 he was selected to play in the Chamber Symphony of Philadelphia and record chamber music for RCA Red Label Classics. Two years later, he was appointed the principal flutist of the Detroit Symphony, a position he held for 40 years until his retirement in 2008. He can be heard on numerous symphonic recordings with legendary conductors such as Antal Dorati and Neemi Jarvi.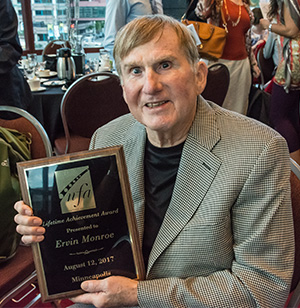 Monroe has served as a member of the board of directors and as president of the National Flute Association. He was the NFA program chair in 1990 and later was a founder and the first editor of The Flutist Quarterly. Monroe has judged on many musical panels, including the NFA's Young Artist Competition. He has a multitude of publications to his credit, including music periodicals, instructional manuals, arrangements, and compositions. His book, Special Fingerings for Advanced Flutists, was selected by the National Flute Association as the number-one Newly Published Pedagogical Book in 2012. His children's piece, The Amazing Symphony Orchestra, has been performed by orchestras internationally.

Monroe was a faculty member at the Wayne State and Oakland universities in Detroit and has been a visiting professor at a number of other colleges, including the University of Michigan and Michigan State University. He has performed flute on many chamber music and solo recordings and has lectured and given masterclasses for 50 years. He was music director of several Michigan orchestras and the founding music director of the Oakland Youth Symphony, which he conducted for 10 years.

In the early 1970s, Monroe started a small publishing company called Little Piper, which specialized in flute music. The company now sells music worldwide. In 1975, Monroe became a consultant for Muramatsu flutes.Twenty years later, in 1995, he was appointed by the president of Muramatsu Inc. in Japan to head a North American company representing and distributing Muramatsu flutes. This company is known as Muramatsu America.

Monroe is a diverse musician. He played with a jazz combo in college and later a rockand- roll group that recorded for London Records. He also played background flute for a number of Motown's greatest hits. His teachers include Robert Willoughby, Harold Bennett, and William Kincaid.