George Pope
2018 Distinguished Service Award
George Pope grew up in northeastern Oklahoma, where his early musical training was shaped by piano lessons with his mother at age 8, church choir, and playing flute in school band for two years. While in high school, his family moved frequently, and his first orchestral experience was in a Tennessee All-State Orchestra, followed by the Tulsa Youth Symphony. Flute studies continued with Marian McNally, principal flutist of the Tulsa Philharmonic. While a sophomore in college at the University of Tulsa, Pope won the second flute position in the Tulsa Philharmonic, playing next to his teacher.

After graduating from college, Pope studied for two years with Maurice Sharp and in 1974 became Walfrid Kujala's first graduate teaching assistant at Northwestern University. In 1976, he joined the New Mexico Symphony in Albuquerque as second flutist. In 1978, he moved to Akron, Ohio, where he became an admired and dedicated flute professor at the University of Akron until 2013 and served as the principal flutist of the Akron Symphony Orchestra for 24 years. In addition, Pope joined the faculty at the Baldwin Wallace Conservatory in 2002, a position he continues today.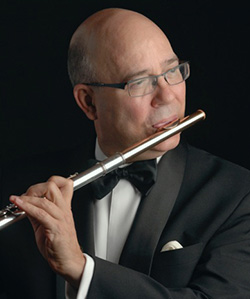 Pope's introduction to the NFA was through a competition, as a Convention Performers winner in 1980. Perhaps his greatest NFA legacy came from the concert that he initially proposed to Patti Adams in 1997, the Remembrance and Healing concert that since then has been an annual feature at NFA conventions. The concert was an extension of a 1995 AIDS memorial Pope had organized. After losing Todd Fulmer, his beloved partner of 25 years, Pope honored Fulmer's memory with Samuel Barber's "Canzone" with pianist Dianne Frazer the following year, in 2013. In 2014, they performed Nancy Daley's "In Cynthia's Garden" in his memory. Pope credits Fulmer with being extremely supportive of his NFA service.

Pope was program chair for the 2000 NFA Convention in Columbus. Following that event, Pope served as the NFA's vice president (2000–2001), president (2001–2002), and past president (2002–2003). He was the first chair of the new Past Presidents Council (2015–2017). In between years of board service, he has contributed countless hours of work on committees and judging panels.

Outside of the NFA, Pope is well known in the Cleveland area for his involvement as a founding member of the Chamber Music Society of Ohio and the Solaris Quintet. He is active with the Tuesday Musical Association, now in its 130th year. The Tuesday Musical Association began as a monthly musicale for women, became a concert-presenting organization, and, more than 60 years ago, added a scholarship competition that Pope chairs. This competition awards $25,000 annually to students attending Ohio universities and conservatories.