Gwen Powell
2010 Distinguished Service Award
Gwen Powell grew up in Iowa, where her early life was filled with flute and piano lessons with an inspiring teacher, resulting in a full scholarship to Northwestern University. After graduating from Northwestern, she married and moved to Arizona State University, where she spent two years in graduate school while subbing in the Phoenix Symphony and teaching music in the public schools. Powell then moved to suburban Boston as a freelance musician, studying extensively with Marcel Moyse in Vermont while teaching flute at Bedford High School and hanging out in the local flute-making shops.
After several years, Powell moved to Albuquerque, where she was principal flute in the New Mexico Symphony and Albuquerque Chamber Orchestra, often subbing with the Santa Fe Opera Orchestra. In 1971 she moved with her family to Oklahoma State University, where she served as professor of flute and, later, head of the OSU music department. She was principal flute in the Oklahoma Sinfonia and Tulsa Ballet Orchestra and was named Oklahoma Musician of the Year in 1980 by the governor of Oklahoma.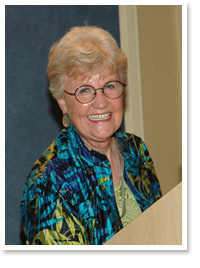 Powell received three National Endowment for the Arts touring grants, presenting recitals and masterclasses in more than 30 states. Internationally, she has given concerts, recitals, and masterclasses in France (aired by France Public Radio), Mexico, Poland, China, Greece, the Netherlands, Italy, and the former USSR.
Moving to Tucson in 1991, Powell was founding director of the Southwest School of Music and Dance, which received two national awards for cross-cultural programming. She became professor of music at the University of Arizona in 1999, where she taught flute and initiated a career development program for musicians, which has received national recognition as the leading program of its kind. In 2003, she was honored as a Faculty Fellow for the College of Fine Arts and was named the Kaufmann Foundation Scholar in 2003.
An active and life member of the NFA, Powell served two years as NFA president, convention chair for the Kansas City Convention (1994), member and chair of the board, masterclass chair, young artist competition judge, NFA library chair, planned giving chair, conductor of NFA Flute Orchestra, Professional Flute Choir and High School Flute Choir. She helped develop the policies for NFA gifts, bequests, endowment, and library, as well as the brochures for bequests and endowment.
Currently, Powell is enjoying her new role as professor emerita at the University of Arizona and co-chair of the UA School of Music Advisory Board. She sings with St. Philips' Singers and teaches recorder in an after-school program for at-risk children. She guest conducts the Southern Arizona Flute Orchestra and in the summers, she co-chairs a chamber music series in Lake City, Colorado.