James Pellerite
2016 Lifetime Achievement Award
A co-founder of the National Flute Association and performer on the modern flute, James J. Pellerite is well known as an orchestral musician. He succeeded his renowned teacher, William Kincaid, as solo flutist of the Philadelphia Orchestra. Previously, he served as principal flutist with the Indianapolis and Detroit symphonies; he also performed with the orchestras of Chautauqua (New York), Radio City Music Hall, L'Orquestra Sinfonica de Puerto Rico, the Minnesota Orchestra, and the San Francisco and Dallas symphonies. He has played under the batons of such legendary conductors as Leonard Bernstein, Pablo Casals, Neville Mariner, Dimitri Mitropoulos, Eugene Ormandy, Leopold Stokowski, and Bruno Walter. With Igor Stravinsky conducting, Pellerite also recorded his Octet for Winds.

Pellerite was professor of music at the Jacobs School of Music, Indiana University, for three decades. He was a renowned pedagogue, combining innovative approaches to his teaching with a focus on orchestral literature. He trained many flutists to go on to prominent university and symphony careers. As a performer and teacher, he appeared throughout the United States, Canada, Mexico, including residencies in Australia, Japan, Taiwan, Singapore, and the People's Republic of China.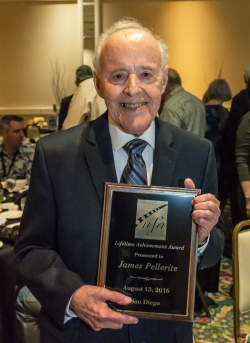 Pellerite has written and edited numerous contemporary flute works and has authored pedagogical publications including the ground-breaking A Modern Guide to Fingerings and Handbook of Literature for the Flute. He has also designed and built flutes and headjoints, working on projects with, among others, the legendary flutemakers Albert Cooper and Jack Moore.

In 1993, Jim and his wife, Helen, moved to Albuquerque, New Mexico. He quickly fell in love with the sound of the Native American flute, and soon turned to a new career with his new instrument of choice.

Pellerite has inspired beautiful compositions, created for the Native American flute, by an impressive roster of outstanding composers. He has commissioned and published an important catalog of scores featuring a wide selection of orchestral, chamber, and solo works by living composers. His programs and lectures are noted for the high quality and diversity of the music presented and reflect his commitment to expand the capabilities, tonal spectrum, and intonation of the Native American flute, thus elevating it to the status of a significant new presence in the contemporary music landscape.

As a soloist with orchestra, Pellerite has recorded some of these new compositions with the National Polish Radio Symphony (David Oberg, conductor) and the Moravian Philharmonic (Lawrence Golan, conductor). His performances are included on CDs by Azica and Centaur Records. Other CDs of solos, chamber music, and orchestral repertoire have been released by Albany Records, including the 2015 disc, Embrace the Wind, and, in 2016, Mystic Voices Soaring. Much of this recorded music can be heard on YouTube and at jamespellerite.com.