John Wion
2007 Lifetime Achievement Award

John Wion was principal flutist of the New York City Opera from 1965 to 2002, and has drawn on this experience to publish a 9-volume series of opera excerpt books to help flutists prepare for auditions and performances. He has appeared as a soloist in New York's major concert halls and at prestigious summer festivals in the United States. He has made recital tours with pianist Gilbert Kalish and guitarist Lisa Hurlong, and guest appearances with the Tokyo, Emerson, and Manhattan String Quartets. He has recorded a variety of solo and chamber music repertoire for Lyrichord, Turnabout, Opus1, Musical Heritage, and has released three CDs on the Hartt Music Productions label.
Wion was professor of flute at The Hartt School from 1977 to 2007. In his many visits to Australia and New Zealand, he appeared as soloist with all the major orchestras in addition to performing recitals. He has also been an artist in residence, teaching and performing, in Australia, Italy, Mexico, England, Finland, Peru, and Canada. His editions and publications have been honored by the NFA's Newly Published Music Competition. He served as president of this organization in 1985. He has recently completed his memoirs, Wood, Silver and Gold.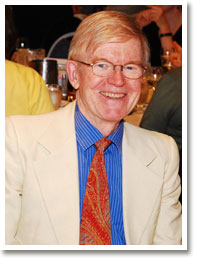 Wion's early flute studies were with Leslie Barklamb in Australia. He continued these studies in New York with Julius Baker, Claude Monteux, William Kincaid, and Marcel Moyse. Wion was a founding member of Leopold Stokowski's American Symphony, playing its first three seasons. His performing career brought him into contact with all the major singers, from Luciano Pavarotti and Placido Domingo to Joan Sutherland and Beverly Sills to Julie Andrews and Liza Minnelli. He performed under conductors such as Leonard Bernstein, Pierre Boulez, Georg Solti, and James Levine. In addition to opera and symphony, he performed with the Royal Ballet, New York City Ballet, American Ballet Theater, and Bolshoi Ballet. He played many Broadway shows, from Camelot to Phantom at the Opera.

From the 2007 convention awards ceremony:

"John Wion became an esteemed flutist and teacher through a combination of a winning personality, some lucky breaks, astute business sense and plain hard work. In the most appropriate acknowledgement for a remarkable career, the NFA is delighted to present the Lifetime Achievement Award to John Wion. And we all look forward to seeing what he does next!"
—Alexa Still, from her presentation speech.

Principal flutist in the New York City Opera for some 30 years, John Wion has collaborated with some of the world's elite performers, such as the Tokyo, Emerson and Manhattan string quartets and pianist Gilbert Kalish. He has appeared as a soloist in New York's major concert halls and has taught and performed in Italy, Mexico, Peru, Finland, Canada, and of course, his home country, Australia.

Teaching is an important aspect of his career, evidenced by many devoted students.
He taught flute at The Hartt School from 1977 to 2007. He has published articles, edited otherwise unavailable music, edited and published NINE Volumes of Opera Excerpt books, recorded on the Hartt Productions label. And most recently Wion has published a substantial autobiography: "Gold, Silver and Wood; A Flutist's Life".

"Somehow he even managed to fit in being a Program Chair for the 1986 NFA Convention in New York and President of the NFA in 1984. Some of us would attest this is almost impossible," said NFA President Alexa Still.