Katherine Borst Jones
2011 Distinguished Service Award
Katherine Borst Jones has been professor of flute at The Ohio State University since 1985. She was awarded the 1995 Distinguished Teacher Award and the 2008 Scholar Award in the School of Music. She performers with the quintet Scarlet Winds and with the Jones/Norton flute and harp duo. She is a Visiting Professor at China's Shenyang Conservatory and cofounded and taught at the Robert Willoughby Master Classes at the University of New Hampshire.
In 1976, she created the annual High School Flute Workshop program at Ohio State. She has taught at Heidelberg College, Denison University, Emporia State University (Kansas), Oberlin Conservatory, and other instutions. Jones thanks teachers Keith Brion, Robert Willoughby, Kyril Magg, Donald McGinnis, and Julius Baker for their mentorship and inspiration.
As a life member of the NFA, she has been president twice; secretary/treasurer; assistant secretary; program chair for the 1992 convention; and chair of the longrange planning, advisory, and development commitees, and was in the delegation to the Soviet Union in 1989. She has adjudicated competitions and performed at NFA conventions. She conducted The Ohio State University Flute Troupe at four conventions: the first 2009 Collegiate Flute Choir, the 1997 National High School Flute Choir, and the convention flute choirs in 2000 and 2004. She also was a conductor for the Guinness Book of Records flute choir with James Galway in 2009 and has attended conventions since 1976. Board accomplishments during her tenure include revision of the constitution and by-laws, establishment of the Library of Congress archives, republishing Kincaidiana, and redirecting management of The Flutist Quarterly, the NFA's member magazine.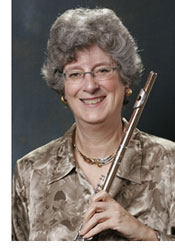 A founding member of Cosmos, a trio for flute, viola and harp, Borst Jones has commissioned and premiered works by Libby Larsen, Stephen Paulus, Andrew Boysen, Donald Harris, and Stephen Main. She has also commissioned works by Stephen Montague, Michael Ruszczynski, Mark DeVoto, Tom Duffy, Daniel Bukvich, and others. She has performed for George Crumb, Vincent Persichetti, Donald Harris, Larsen, William Bolcum, George Perle, John Corligiano, Bright Sheng, and Michael Daugherty and premiered works by Jean Françaix, Peter Schickele, Daugherty, and Dana Wilson. She is a founding member, soloist, and co-principal flutist of the ProMusica Chamber Orchestra of Columbus, former principal flute and soloist with the Columbus Bach Ensemble, member of the Columbus Symphony Orchestra, and principal flute of the New Sousa Band. She has recorded for CRI, d'Note, and Summit and published with Southern Music.
Grateful to colleagues and friends in the NFA, Kathy thanks them for the opportunities, friendships, and inspirations and considers it a privilege to serve the NFA.