Laurie Sokoloff
2017 Lifetime Achievement Award
Laurie Sokoloff was born into one of Philadelphia's leading musical families—both her parents were on the piano faculty of the Curtis Institute of Music. She first studied piano with her mother and Ralph Berkowitz and solfège lessons with Luigi Zaninelli, and then took early flute lessons with John Krell, solo piccoloist of the Philadelphia Orchestra. When she was 10 years old, her mother hired students from the Curtis Institute to come to their house to practice with her.

At age 14, Sokoloff was accepted into the Curtis Institute's program, where she studied with William Kincaid, principal flutist of the Philadelphia Orchestra, while simultaneously finishing high school. She also took two masterclasses with Marcel Moyse and studied with him for two summers at Marlboro. By the time she graduated at age 18, she was already the contracted piccoloist with Philadelphia's two opera companies and the Pennsylvania Ballet.
During the years spent in Philadelphia following her graduation, Sokoloff performed in chamber music recitals with cellist Jay Humestan and pianist Peter Serkin, soloed with the Philadelphia Orchestra, and played numerous recitals with her father. She also gave chamber music recitals for the Bay Chamber Concerts in Rockport, Maine.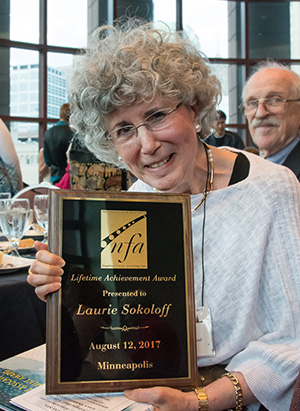 While on tour with the Pennsylvania ballet orchestra in February 1969, Sokoloff auditioned for and won the solo piccolo position with the Baltimore Symphony Orchestra. She began working there the day after the ballet tour ended. She stayed with the orchestra for 47 years until her retirement in 2016. While with the orchestra, she was a featured soloist, performing concerti by Vivaldi and Liebermann. She has given piccolo masterclasses at the Peabody Conservatory and the Curtis Institute of Music and teaches flute and piccolo at Peabody.

For several years in the 1990s, she chaired the National Flute Association's Piccolo Committee and coordinated the Piccolo Artist Competition. On behalf of the NFA, she spearheaded commissions of Liebermann's Piccolo Concerto—which Jan Gippo premiered at the 1996 Annual National Flute Association Convention and Sokoloff played with the Baltimore Symphony two years later—and Souvenirs by Robert Beaser. In the summer of 2000, she premiered "The High and the Mighty," written for her by Michael Daugherty, at the Annual NFA Convention.

Also in 2000, Sokoloff joined the faculty at the Peabody Institute of the Johns Hopkins University, where she is on the flute faculty with Marina Piccinini and is the major piccolo teacher; she also created a piccolo major program at the institute. Sokoloff is lauded for her teaching and has sent countless students on to full-time orchestral and band positions.