Maxence Larrieu
2014 Lifetime Achievement Award
Born in Marseille in 1934, Maxence Larrieu is considered one of the world's most important flutists. He first studied at the Academy of Music in his home town under Joseph Rampal and is understood to be one of the best examples of the French Flute School's development from mid-20th century to the present.

Earning his diploma with full marks, Larrieu joined Gaston Crunelle's class at the Academy of Music in Paris in 1951. After only one year of study at the Academy, he won the Premier Prix in Chamber Music. Consequently, his first prize in the National Superior Music College of Paris in 1953 bespoke a flutist whose varied talents yielded accolades in multiple arenas.

In 1954, Larrieu took first prize in international competitions in Munich and Geneva and since then has appeared with renowned orchestras such as I Musici and the English Chamber Orchestra.
A tireless advocate of new music, Larrieu counts Jean Rivier and Marcel Landowski among the composers writing for him, and over the course of his career he performed the Poulenc Sonata several times with the composer seated at the keyboard.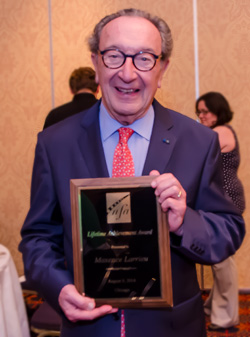 Counting more than 100 recordings to his credit, Larrieu has many recording prizes and has recorded with orchestras from Prague, Munich, Cologne, and Monte Carlo, as well as with I Musici, l'Ensemble Instrumental of France, Chamber Orchestra of the Sarre, and the Philharmonic of Turin. His performing collaborators include esteemed colleagues such as Arthur Grumiaux, Rafael Puyana, Bruno Canino, Gabriel Tacchino, Susanna Mildonian, Maurice André, Jean-Pierre Rampal, and Lily Laskine.
Concert appearances in Lincoln Center with the Chamber Orchestra of New York underscore invitations to music festivals in Osaka, Montreal, Sydney, Aix-en-Provence, Salzburg, Prague, Bratislava, Rome, Barcelona, and Prades.

Since 1964, Larrieu has enjoyed regular invitations to Japan, Korea, China, the United States, and all over Europe for concerts and masterclasses in establishments including Juilliard, Yale, and the Royal Academy of Music in London and in Milan, Nice, and other cities.

Larrieu was a member of the jury for different competitions, including the famed Kobé International Competition and the Carl Nielsen International Flute Competition, as well as esteemed competitions in Munich, Prague, and Budapest, before becoming president of the Jean-Pierre Rampal Flute Competition in 2001.

Students include Robert Langevin, Mathieu Dufour, Jean Ferrandis, Patrick Gallois, Sibel Pensil, and many others.