Penelope Fischer
2015 Distinguished Service Award
Penelope (Penny) Fischer enjoys a diverse career, combining performance, teaching, and administrative positions. She is a member of the Detroit Chamber Winds and Strings, Principal Flutist of the Ann Arbor Symphony, and flute professor at Eastern Michigan University. She also serves as president of the board of the Ann Arbor Society for Musical Arts and as a member of the Advisory Council for the Music School of Ann Arbor, which she cofounded in 1991.

Fischer has served the NFA in many roles beginning in 1983 when she accepted the then-volunteer position of Convention Coordinator and site selection chair. She went on to become program chair for the 1991 convention in Washington, D.C., and then president of the board. During her term, she oversaw the development of what was then called the Awards Banquet, announced an active endowment and development program, wrote the first President's Appeal letter, established the Myrna Brown Society and the Baroque Flute Artist Competition, and initiated the NFA's first Town Hall Meeting. She also led a cultural exchange of more than 20 of the association's most active flutists to the Czech Republic and Germany, the third such exchange in which she participated.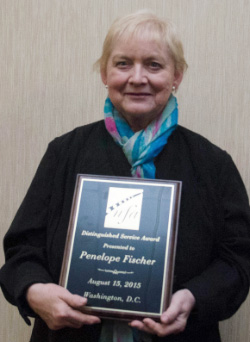 Fischer has served as a member of the Baroque Flute Committee, a Young Artist and High School Soloist competition judge, secretary and board member, co-editor of The Flutist Quarterly, and editor of the Quarterly's "Across the Miles" column. She has been a popular performer and presenter, offering a "Baroque Dance 101 for Musicians" workshop at several conventions, performing winning compositions of the Newly Published Music Competition, premiering compositions by William Albright and Nancy Faber, conducting the Jubilation '97 Flute Orchestra to open the 25th Annual Convention in Chicago in 1997, and, most recently, presenting a tribute to C.P.E. Bach to celebrate his 300th birthday during the 2014 convention.
Born in Mason City, Iowa, Fischer earned an undergraduate degree from the University of Iowa, then pursued additional training, including flute classes in Nice with Jean-Pierre Rampal and in Florida with Geoffrey Gilbert; baroque flute studies with Betty Mather and in classes with Barthold Kuijken; study of contemporary music with Harvey Sollberger and Robert Dick; a master's degree from the University of Michigan; and DMA studies with William Montgomery at the University of Maryland, which led to her important dissertation on Philippe Gaubert.