Robert Dick
2014 Lifetime Achievement Award
Experienced in classical, free improvisation, and new jazz disciplines, Robert Dick balances a career as composer, performer, improviser, teacher, inventor, and collaborator. His pedagogy for contemporary music spans books, etudes, compositions, and instructional media. He performs, writes commissionins, and is on the faculty at New York University and the City University of New York Graduate Center. He has taught in residence in hundreds of universities, colleges, music schools, and conservatories throughout the U.S., Europe, Asia, and Australia. He holds a B.A. from Yale University and an M.M. in composition from the Yale School of Music. He is a frequent performer at NFA annual conventions (including his 1999 performance in Atlanta of his Concerto for Flute/Bass Flute Strings and Percussion to a standing ovation by some 2,000 flutists), a competition judge, a commissioned composer for new NFA competition pieces, a former board member, and a participant in various other NFA endeavors.

Drawing inspiration from a wide range of artistic sources that include his classical roots, new jazz, rock, pop, global, electric, and electronic music, Dick has redefined the sonic possibilities of the flute and its music. His performances include flute, piccolo, alto flute, bass flutes in C and F, and the contrabass flute.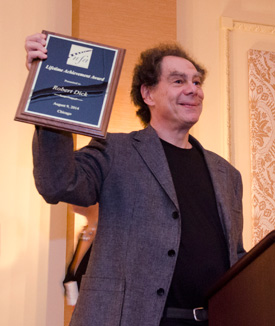 Robert Dick is one of only two Americans to be awarded both Composers Fellowships (twice) and a Solo Recitalist Grant by the N.E.A. He has received a Guggenheim Fellowship and commissions from the Jerome Foundation, Fromm Music Foundation, and many more. Dick has released more than two dozen CDs of music by composers from himself to Telemann to Hendrix, solo and with fellow creative musicians such as the ambient/overdrive band King Chubby and virtual reality pioneer Jaron Lanier. Over three decades of collaboration, musicians he has worked with include Steve Lacy, George Lewis, Georg Gräwe, Evan Parker, Malcolm Goldstein, Shelley Hirsch, Jöelle Léandre, and John Zorn. As an improviser, Dick has performed and recorded with New Winds, Tambastics, Oscura Luminosa, the Soldier String Quartet, the A.D.D. Trio, Paul Giger and Satoshi Takeishi, Randy Raine-Reusch and Barry Guy, Mari Kimura, Steve Gorn, and many more.
Robert Dick has also redefined the flute itself. Eastman Music Company (parent company of Wm. S. Haynes Co.) manufactures his Glissando, a telescoping headjoint that slides inside a carrier tube. Dick performs on a special flute that Brannen built for him, a variation of the Kingma-System model.
Dick has published seminal works for contemporary flute: The Other Flute: A Performance Manual of Contemporary Techniques; Tone Development Through Extended Techniques; Circular Breathing for the Flutist; and Flying Lessons: Six Contemporary Concert Etudes (Volumes I and II).