The 2020 NFA election opens July 1 and closes on August 8 at 5:00 p.m. (CDT). The following candidates are to be ratified. The Vice President/President Elect will serve two years and then two years as President; the Assistant Secretary/Secretary will serve one year in each position; Board Members will serve three-year terms. The election results will be announced in digital communications and at nfaonline.org.
For Vice President/President Elect
A four-year commitment; will serve two years as Vice President/President Elect and the following two years as President.
Rebecca Johnson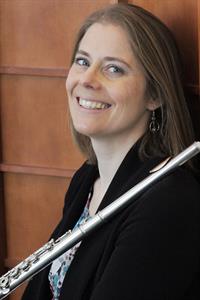 I am honored to be nominated for Vice President/President Elect of the NFA. I have been involved in the NFA since 2006, from serving as Assistant Program Chair for the 2008 convention to completing a recent appointment as 2019 Program Chair. As Exhibitor Concert and Showcase Coordinator (2008–2013), I enjoyed cultivating relationships with our commercial members. I have also judged several competitions and been involved with
The Flutist Quarterly
as a regular reviewer and as author of articles. As Secretary of the NFA Board of Directors (2014–2016), I spent two years documenting the Board's work; I also have enjoyed appointments on the Finance Committee, the Cultural Outreach Committee, and more recently, the Pedagogy Committee. Planning the 2019 convention during a period of organizational transition further deepened my institutional knowledge and helped me engage with even more of the membership. I am excited to serve all of the flute community during this transformative time and am humbled by this opportunity.
Rebecca Johnson is Assistant Professor of Flute at Eastern Illinois University, where she has taught since 2007, and is second flutist of the orchestra Sinfonia da Camera. Johnson enjoys national prominence through her work on numerous guest artist recital series, masterclasses, festivals, and orchestras. Internationally, she has regularly performed and taught at the Convención Internacionál de las Flautistas in Quito, Ecuador, since 2009 and was featured at the 2018 Festival Internacional de Flautistas in São Paulo, Brazil. Dedicated to serving the flute community, Johnson has been involved in the National Flute Association throughout her professional career, and recently completed an appointment as Program Chair for the 2019 NFA convention. Johnson was a Rotary International Ambassadorial Scholar to the Royal Northern College of Music in Manchester, England. She holds degrees from the University of Illinois (DMA), the University of Louisville (MM), the Royal Northern College of Music (PGDip, PPRNCM), and the University of Northern Iowa (BM).

For Assistant Secretary
A two-year commitment; will serve one year as assistant secretary and the following year as secretary.
Charlene Romano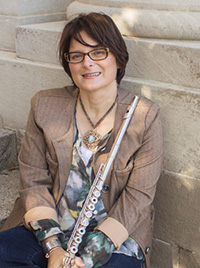 I am honored to again be nominated as Assistant Secretary/Secretary of the NFA. From my first convention as a student in 1991—where I was stunned to quite literally run into Jean-Pierre Rampal as he came out of an elevator, and where I soaked up every concert, masterclass, and workshop I could—to now, I have seen the influence and support of the National Flute Association on young students, professionals, and amateurs grow by leaps and bounds. While I have served on numerous boards and committees throughout my career, I am currently most proud to be serving, at the time of writing, on Shenandoah Conservatory's Emergency Planning for Online Operations Committee, and I am inspired by the flute community's response to the current pandemic—online webinars, forums, and competitions! The National Flute Association is a community of wonderful, caring, and creative individuals. I have never felt that more fully than at this moment. I am privileged to be nominated for this position and look forward to giving back with vitality.
Charlene Romano maintains an active private flute studio in Winchester, Virginia, in addition to serving on the faculty at Shenandoah Conservatory, where she has taught applied flute, written theory, ear training, and 20th Century Listening, coached small ensembles, and directed the flute choir. Romano is a sought-after clinician and adjudicator and has published several pedagogical articles in Flute Talk, The Flute View, and The Double Reed. Her case study, "Accommodating Dyslexia in Aural Skills," was just published in the Routledge Companion to Music Theory Pedagogy (Routledge, ed, VanHandel). An observation of her performance-based approach to teaching ear training, and an interview with the author, will be published in May in Teaching Music Theory: New Voices and Approaches (Oxford University Press, Snodgrass).

Romano has extensive chamber music and orchestral experience. She has adjudicated several competitions for the Mid-Atlantic Flute Convention and has coordinated the Flute Society of Washington's Mid-Atlantic High School Flute Choir Competition for the past three years.

For the NFA Board of Directors
Primary duty is to participate in all meetings of the board and adopt the policies and the programs of the Association.
Brian Dunbar
My experience with the NFA began when I was a student and has evolved and progressed throughout my professional career. I have attended the annual convention as a volunteer, performer, exhibitor, and committee member. The NFA has provided my students and me with endless networking opportunities within the broader flute community, building connections with flutists from around the globe. My membership on the NFA board will provide insight and perspective from multiple tiers of membership and conference participation. My work with the Diversity and Inclusion Committee has provided me with an even deeper understanding of the NFA, its structure, and the strategies put forth to provide a more accessible experience for the expanding range of members. My passion for providing educational and professional opportunities for teachers, professionals, and students of all cultural and socio-economic backgrounds contributes to my desire to be an even more integral part of the NFA.
Brian Dunbar earned a Doctor in Musical Arts degree from Louisiana State University, Master of Music degree from the University of Michigan, and Bachelor of Music degree from Stetson University. He was recently appointed Assistant Professor of Flute at the Crane School of Music, SUNY Potsdam. He has also held teaching positions at Southern University, Southeastern Louisiana University, and Louisiana State University. Dunbar has been recognized in numerous competitions. In 2018, he received First Prize in the Inaugural International Low Flutes Festival Alto Flute Competition held in Reston, Virginia. He has performed at the Annual NFA conventions in Chicago, San Diego, Orlando, and Salt Lake City. He has served on the boards for a number of community organizations and is also a member of the globally recognized Sphinx Organization, which aims to promote inclusion and diversity in the arts. His primary teachers include Susan McQuinn, Amy Porter, and Katherine Kemler.

Marco Granados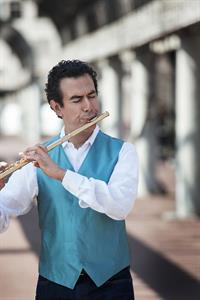 To me, the NFA is a global organization that continually sets new standards of excellence for flutists everywhere and is a resource for flutists of every level from amateur to professional. As a member of the board, my aim will be to listen, assess, and contribute to the ongoing conversations about the matters that affect all its members. I am really excited to get to know fellow board members and to engage in all of the discussions that pertain to educational, artistic, and developmental topics of the flute. I am also honored to be a voice within the NFA for Hispanic and Latino flutists, and I am grateful for the nomination.
One of the world's leading flutists in Latin American music, Marco Granados maintains an active career as an international concerto and recital soloist, chamber musician, and master teacher. He has had recital debuts at Carnegie Hall in New York City and Wigmore Hall in London and has appeared in summer festivals such as the Moab, Chautauqua, Colorado, Crested Butte, and Caramoor International Music festivals. His performances have taken him all over the world, including South Africa, Slovenia, Scotland, Japan, and China. In the United States, Granados has frequently been a featured guest artist at the Annual NFA Flute conventions, many local flute associations, and multiple artist series. Recent performances and masterclasses include the Festival Internacional de Flauta in Monterrey, Mexico, the Manhattan School of Music in New York City, a solo recital tour throughout China, and chamber performances at Merkin Concerto Hall in New York City.

Cynthia Kelley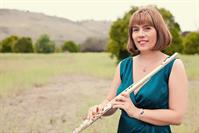 To say that the flute is part of my life would be an understatement. I began playing in fifth grade, became more and more enamored of the instrument through high school, and then completed both a bachelors and a masters in flute performance. After college, I played and taught for many years, peaking at 28 (!) students, before founding Flutacious!, the West Coast Flute Specialty Shop, based in Los Angeles. One of my daughters is also a flutist. On the NFA board, I hope to advocate for common-sense solutions to the problems that face both flutists in general and the larger musical world as well. As I am writing these words—in April 2020—the idea of large conventions is suddenly a frightening one, and I am ready to help craft new means by which all of us can continue furthering our flute lives in a world that is swiftly changing.
Cynthia Kelley is the founder and owner of Flutacious!, the West Coast Flute Specialty Shop (based in Los Angeles), and also a co-founder and owner of sheet music publisher Last Resort Music. She completed her bachelor's and master's degrees in flute performance at the University of Southern California, where she worked with Jim Walker, Anne Diener Zentner, and Gary Woodward. She is a Straubinger certified repair technician and also leads the Flutacious! repair shop. She and her husband, Daniel, have three children and love to bake.