The 2021 NFA election opens July 1 and closes on August 14 at 5:00 p.m. central. The following candidates are to be ratified. The assistant secretary/secretary will serve one year in each position; the treasurer will serve a four-year term; board members will serve three-year terms. The announcement will be made during closing ceremonies on Sunday, August 15.
To vote, make sure you're signed in to your NFA account, then click here.
For Assistant Secretary
A two-year commitment; will serve one year as assistant secretary and the following year as secretary.
Julee Kim Walker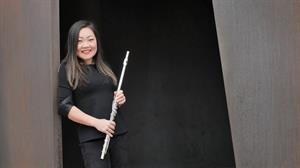 It is with great honor to be nominated for the NFA Board as Assistant Secretary/Secretary. My passion lies in serving people and bringing people together through music. What better way to give back to the flute community than to serve on the NFA Board! As President of the Texas Flute Society for the past two years, we have worked tirelessly to continue to make diversity, equity, and inclusion an ongoing priority in our organization. In addition, finding ways to keep the flute community and my students engaged during the pandemic has been a great and creative experience. My experience serving on the NFA Diversity and Inclusion Committee the last four years has also given me a glimpse of the inner workings of the NFA. I am looking forward to working together with the board to continue to make the NFA a place welcome for all!
A native Houstonian, flutist Julee Kim Walker remains an active performer and pedagogue in the Dallas-Ft. Worth metroplex. She is Associate Professor of Flute at Texas A&M University-Commerce. She received her Bachelor of Music degree from the University of Texas at Austin and her Master's degree from the San Francisco Conservatory of Music. She received the Doctorate of Musical Arts degree from the University of North Texas. Her principal teachers include Terri Sundberg, Tim Day, Karl Kraber, Christina Jennings, and September Payne.
An esteemed teacher, Julee was the 2016 and 2020 recipient of the Paul W. Barrus Distinguished Faculty Award for Teaching and is sought after as a clinician, adjudicator, and masterclass teacher throughout the U.S. and abroad. Julee is Artistic Director of the Texas Summer Flute Symposium, is President of the Texas Flute Society, and serves on the NFA Diversity and Inclusion Committee.

For Treasurer
Responsible for the maintenance of adequate books and financial records, has charge and control of all funds and investments of the NFA, and shall in general perform all duties incident to the office of a Treasurer. Treasurer is also the Chair of the Finance Committee.
Thomas Mease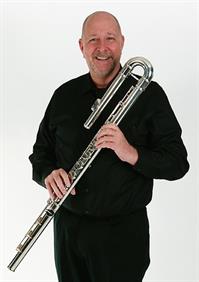 I am honored to be nominated for Treasurer of the NFA. My first involvement with NFA was at the Denver Convention of 1985. It has been amazing to watch the growth of the association both at annual conventions and with associated programs and outreach. I have met so many wonderful flutists and musicians because of the NFA, many of whom are now close friends. I have served on the NFA Finance Committee for the past four years. I am looking forward to the opportunity to work with the board as the NFA continues with its mission to inspire flutist and enrich lives.
Thomas Mease retired from North Carolina State University in April 2021 where he served for the past eight years as Business Officer for The North Carolina Agricultural Foundation, Inc. (a 501(c)3 non-profit), fundraising and supporting the College of Agriculture and Life Sciences. He helped develop annual General Fund Budgets, monitor revenues and expenditures, and assist fund raisers and faculty. He started his professional career as a band director in North Carolina and worked at NCSU for 22 years in various accounting functions. Tom received his Bachelor of Music in Flute from Drake University and Master's of Woodwinds at East Carolina University. He has been a member of the Raleigh Flute Choir since 1989, performing locally and regionally on all flutes in the flute choir. Tom has also been a member of the Raleigh Symphony Orchestra since 2000 and a member of the International Flute Orchestra since 2011 playing bass flute. He enjoys sharing his love of the flute and music locally, regionally, and internationally.

For the NFA Board of Directors
Primary duty is to participate in all meetings of the board and adopt the policies and the programs of the Association.
Tadeu Coelho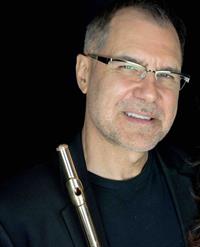 I am honored and humbled to be nominated to serve on the NFA Board of Directors. As we evolve, we realize that life is better and more meaningful when we serve. Serving our community of flutists is not only a privilege but a duty when one has been blessed by so many years of wonderful performing and teaching. I hope my diverse background, ideas, and interests can help shape and guide the future and relevance of the NFA to its ever-expanding community. A focus on diversity, equity, and inclusion will accomplish much more with a sense of belonging and love. Our future as a service organization depends on the actions we take today and how present we are to each other. The relevance of mental and physical health has become apparent. The health of the NFA depends on the health and sense of belonging of its members. I am committed to these values. The NFA's vision and goals are set clearly. I'm ready to serve to make it possible for these goals to continue to flourish in our community.
Brazilian-born artist Tadeu Coelho (he/him/Latino) is Professor of Flute at the UNC School of the Arts. He frequently appears as soloist, chamber musician, and master clinician throughout the Americas. Tadeu is an avid proponent of new music. He has commissioned, performed, and recorded works by living composers from diverse backgrounds. Tadeu has performed as first solo flutist of the Santa Fe Symphony, the Hofer Symphoniker, and the Spoletto Festival Orchestra, among others. Coelho's solo CDs are a testament to his commitment to Latinx culture. They include Live from New Orleans, Azules, Nocturnes, Modernly Classic, 18th Century Flute Sonatas, Flute Music from Brazil, ¡Rompe!, Life-Drawing, and Latino Voices. Tadeu has published the complete works of Pattápio Silva, Flute Workouts Vols. I & II, and a transcription of Paganini's Caprice no. 24. Tadeu has served as the coordinator for the NFA Young Artist Competition and as program chair for the NFA 2013 New Orleans convention.

David B. Houston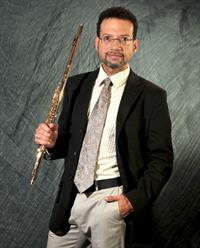 The nomination I received for the Board of Directors of the NFA came as a big surprise, and I am honored. The National Flute Association has been a part of my musical life for over 40 years. My first convention was 1983, and I have attended many conventions consecutively since, as an exhibitor, performer, teacher, and on four occasions, just as an attendee. Each brought a different perspective while uniting a group of individuals with a common interest. There is always a wonderful sense of community that is ever-evolving. I continue to enjoy the opportunity to meet and work with an incredible range of flutists from all over the world. I am also privileged to serve on the Diversity and Inclusion Committee. I feel it is an excellent forum to strengthen a significant aspect of the NFA's evolution. Serving on the Board of Directors will be a direct avenue towards elevating the finest traditional qualities of the NFA, but also be an arena to cultivate and foster innovative, forward-thinking ideas and positive trends for all involved. I witnessed an explosion of growth and positive change in the NFA's membership during the Summer Series of 2020 with current events helping to drive new vision and change.
David B. Houston earned an MM from Indiana University, Bloomington, and a BFA from SUNY Purchase. He was Director of Marketing, Director of Customer Service, Director of Quality, Finisher, and Headjoint Tester for Powell Flutes for 11 years. He was a Finisher and Headjoint Tester for Brannen Brothers Flute Makers, Inc. for nine years. David works with Lev Levit to produce the exclusively handcrafted Levit Flutes. David is on faculty at Performing Arts Center of Metrowest and Floot Fire Boston. He is Executive Director of the Marcel Moyse Society and serves on the National Flute Association's Diversity and Inclusion Committee. He was also on the selection panel for the First Generation in College Scholarship. David performs regularly with "Trio Tableau", comprised of himself, pianist Joy Cline Phinney, and Boston Symphony Orchestra violinist Catherine French. His teachers include Harold Bennett, Judith Mendenhall, Carol Wincenc, and Peter Lloyd.

Kim Scott Strickland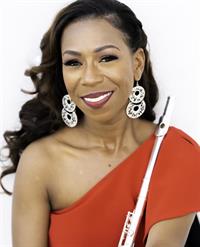 I've been a member of the NFA since my senior year of college, and the organization has been an important part of my life ever since. It not only provided me with great resources as a young aspiring flutist through its annual conventions but now as a professional flutist, I am part of a network dedicated to inspiring passionate flutists worldwide through enrichment. I've had the pleasure of performing at conventions in Chicago, Kansas City, New Mexico, and Las Vegas. I am also the Jazz Flute Masterclass Competition Coordinator and a member of the Diversity and Inclusion Committee. I consider it an honor to serve the NFA in this capacity as we work toward creating a more equitable space for all flutists and as we continue to grow our membership. With my expanded role as a newly appointed member of the Board of Directors, I'm honored to continue serving the NFA alongside other dedicated and talented flutists who, like me, are passionate about the organization and its mission.
An active performer, clinician, and multiple #1 Billboard-charting jazz flutist, Kim (Scott) Strickland is not only well known as one of the top jazz flutists in the country, but she is also known for her role as a member of the all-female jazz supergroup Jazz in Pink and the Tuscaloosa Symphony Orchestra. She is Director of Student Support Services at Alabama School of Fine Arts and also the applied flute instructor there. She has given performances, clinics, and masterclasses at Mid-South Flute Festival, International Festival of Flutists in Peru, annual NFA Conventions, Athena Music and Leadership Camp, Bama Flute Fest, and Iowa Flute Fest conventions, to name a few. A nationally/internationally syndicated radio host, she can be heard weekly across the globe on "Kim Scott's Block Party Radio Show", a two-hour specialty program showcasing the best in smooth, contemporary, and Latin jazz