The National Flute Association, a not for profit institution, is the largest flute organization in the world. Its mission is "To enrich the musical lives of flutists." It was founded to encourage a higher standard of artistic excellence for the flute, its performers, and its literature. Members include leading soloists, orchestral players, college and university professors, adult amateurs, and students of all ages. NFA annual conventions are held in major cities in the U.S. See
Annual Convention
for more information.
Overview

Founded in 1972, and headquartered in Chicago, IL, the not-for-profit National Flute Association is the largest flute organization in the world with more than 5,000 members worldwide including leading soloists, orchestral players, jazz performers, composers, flute scholars, students, teachers, adult amateurs, flute makers, music publishers and flute enthusiasts. The organization boasts the largest lending library of flute music internationally with a catalogue of more than 15,000 works. Dedicated to inspiring young artists, NFA has numerous scholarship programs for continuing education including cultural outreach scholarships in 15 U.S. and non-U.S. cities. Its effort in the area of music commissioning has resulted in more than 65 outstanding new works for both flute and piccolo.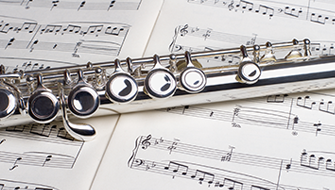 Mission and Vision
To enrich the musical lives of flutists; to encourage a higher standard of artistic excellence for the flute, its performers, and its literature.
Membership


NFA members include leading soloists, orchestral players, jazz, beatbox, and world music flutists, college and university teachers, adult amateurs, students of all ages—and even astronauts. Membership levels include: Active, Student, Life, Library and Flute Club Membership. Commercial Memberships include flute makers, music publishers and related businesses, many of whom exhibit at NFA conventions
Leadership

From its inception, the NFA has been driven by leadership of exceptional vision and caliber, flutists whose lives—as performers, scholars, pedagogues and composers—illustrate the aspirations of the organization they shape. Past presidents, program chairs and committee chairs have included principal flutists of leading American orchestras, top-tier soloists, chamber musicians and professors at the foremost conservatories and universities.
Scholarships
The NFA provides financial support for promising students:
Frances Blaisdell Convention Scholarship, named for the pioneering pedagogue and flutist, provides financial assistance to a U.S. student to attend the NFA convention.
Myrna Brown International Scholarship, named for the NFA's first executive director and a passionate advocate for cultural exchanges through music, provides financial assistance to a flutist from a non-U.S. country to attend the NFA convention.
Geoffrey Gilbert Scholarship prize is awarded to the NFA High School Soloist Competition first-place winner for further flute study with any teacher who is a member of the NFA.
Deveau Scholarship is awarded for the outstanding performance of the NFA High School Soloist Competition commissioned work.
NFA-Sponsored Competitions

The National Flute Association
holds 20 competitions
to reward outstanding performers, composers, publishers, scholars, and entrepreneurs.
Among these are 16 performance competitions to select outstanding flutists to perform at the NFA convention as well as 4 non-performance competitions.
Solo
Alto Flute Artist
Baroque Flute Artist
Convention Performers
High School Soloist
Jazz Soloist
Piccolo Artist
Young Artist
Masterclass
Baroque Flute
Jazz Flute
Masterclass Performers
Orchestral Audition and Masterclass
Piccolo Orchestral Audition and Masterclass
Flute Choir
Professional
Collegiate
High School
Jazz Flute Big Band
Nonperforming
Graduate Research
Newly Published Music
Arts Venture
Flute Choir Composition
Commissions

The NFA is a significant national and international player in the commissioning of new works. The organization has shepherded more than 65 new works since 1980. Commissioned composers include winners of the Pulitzer Prize, the Prix de Rome, the Naumberg, Guggenheim and many other national and international awards. They have been honored by the American Academy of Arts and Letters, the Order of Canada and other prestigious organizations.

Conventions
The Annual NFA Convention is attended by more than 3000 flutists, composers, flute scholars, flute makers, music publishers and flute enthusiasts from around the world. The convention features the presentation of the Lifetime Achievement Award and the NFA National Service Award plus gala concerts, workshops, seminars and recitals. Comprehensive Convention Program Books contain programs, schedule, biographies, indeces and more flute- and convention-related information.

Library
The NFA Music Library is the world's largest lending library of flute music. Located at the University of Arizona Fine Arts Library in Tucson, AZ, the library has a collection of more than 15,000 scores. The collections hold both rare editions and out-of-print scores.
Flute Collections
NFA helps to maintain the extensive Dayton C. Miller flute collection at the Library of Congress.
Publications
The Flutist Quarterly, the NFA's official member magazine, and FQ Plus
Regional Clubs
NFA maintains a liaison with more than 200 U.S. flute clubs.