How to attend the NFA Convention on a Budget
May 2, 2023, 15:36 PM by Marta Knodle
Want to save money while attending the 2023 NFA Convention in Phoenix this summer? Read our tips and ideas here!
The 51st NFA Convention is approaching, and we are looking forward to four days of performances, masterclasses, workshops, and more in Phoenix, AZ, August 3-6. Whether you are already registered or are thinking about attending this summer, read on as we share information on logistics of the hotels, parking, transportation, and dining, and offer tips that will help you save money while you are in Phoenix this summer.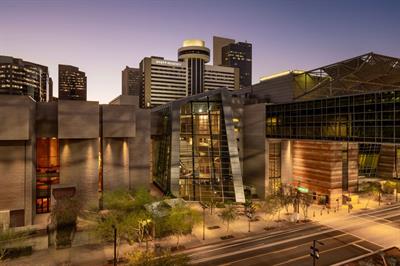 Hyatt Regency Hotel exterior
Hotel
The NFA staff have continued to focus on affordability for the convention this year, with hotel rooms offered at a steep discount. We have secured a block of rooms at the nearby Hyatt Regency Hotel and the Renaissance Hotel with fixed rates starting at $149 per night. You can access these reduced rates through Wednesday, July 12 on our accommodations page.
Find a roommate! A great way to save money is to room with other people. Want to share the accommodation costs with someone else, but you don't know anyone else going to the convention? Members can fill out our Roommate Request Form and check out the new and improved Roommate Listing to connect with someone.
Capacity limitations in hotel rooms are certainly to be noted if you are sharing a room with 1 or 3 other people. Rooms offered at the discount rate are either rooms with 1 king bed or 2 queen beds.
At the Renaissance Hotel, the maximum occupancy for a king room is 2 people and rollaway beds are not permitted. For the queen rooms with 2 beds, a rollaway is permitted – the maximum occupancy is 4 people.
At the Hyatt Regency Hotel, rollaway beds are available for the king room for an additional fee of $20. Rollaway beds are not permitted in queen rooms with 2 beds. King rooms also have a couch in the room.
Food
While the dining facilities at the hotels in Phoenix are convenient, there are many more affordable options nearby. Check out the restaurants within walking distance of the convention center here. At the convention center, a food court is also available offering a range of take-out options.
However, we all know that eating out every meal is not always the most budget friendly option. Shannon Lotti, 6-year convention attendee and current student at Bowling Green State University provides this tip, "When I get to NFA each year, I go to a local grocery store to buy some inexpensive food. I find that the constant eating out gets expensive. Grabbing a loaf of bread and some peanut butter and jelly makes enough of a difference that I can buy a few more pieces of music in the Exhibit Hall!"
Fry's Food Store & Pharmacy at 100 E. Jefferson is a few minutes away and has a full range of grocery supplies (from the Hyatt, take a right, walk to E. Jefferson and it's on the right). A large CVS store is located a few minutes away, between E. Jefferson and W. Washington at the Cityscape Shopping Mall. The Hyatt has a microwave on each floor and each room has a mini refrigerator. Rooms at the Renaissance all have mini refrigerators.
Buying some staple groceries and "grab n' go" snacks can also help save you time. No need to stand in lines at the food court or walk to a dining location. You can spend more time in sessions and wandering around the Exhibit Hall if you pack a few snacks.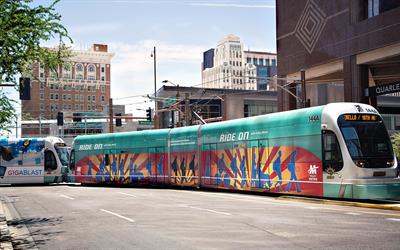 Valley Metro Light Rail
Transportation
Transportation options from the airport include taxis or rideshares in the $20-$25 range or public transportation via the Valley Metro Light Rail which goes directly from the airport to the convention center/hotels. The fare is $2 per person. We found that even though the ticket machine takes cards, it is recommended to bring dollar bills in case the card option is not working. Note that the platform and waiting area for trains is outside and it will be hot. To access the Valley Metro Light Rail, take the free PHX Sky Train from Level 3 of Terminal 4 to the 44th Street PHX Sky Train Station. Purchase a ticket and take the Valley Metro Light Rail to 3rd Street & Washington (very close to the hotels). Check out the Visit Phoenix website for more transportation information.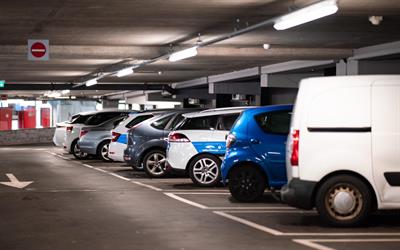 Parking
If you are driving or renting a car, parking is available in the Hyatt parking garage near the hotel. A 25% discount is available for self-parking for convention attendees (not available for valet parking). More information for Hyatt parking is available here. Parking fees are $30 per day before the discount.
Parking at the Renaissance is $39 per day (no discount offered). It is recommended that attendees use the hotel parking garages.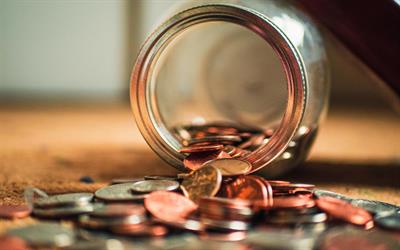 Other Ways to Save
You can make some money while at the convention by applying to be a registration assistant or volunteer. Longtime volunteer Sam Louke attends the conventions with his wife, NFA member Phyllis Louke, and, although he isn't a flutist, spends part of his day volunteering at the convention. He says, "I usually earn $30/day over about 3-4 days, or about $100-120/convention. I've been to seven conventions since 2007, so I've made about $800. It's a great way to give back to an organization that you already support. You're going to the convention; why not spend a couple of hours to help a worthy organization?"
Fundraising or looking for local grants is another way to find funds, Shannon says, "I've done a bunch of things! From giant garage sales with my studio to applying for grants from my university to the NFA convention internship and NFA convention registration scholarship! Each of these have been so helpful in getting me to be able to attend the convention."
All in all, we hope you can utilize this information to save some money at the convention this year. We will see you in Phoenix this summer!
The 2023 NFA Convention is August 3-6 in Phoenix, AZ. You can learn more here.