The NFA Announces Fall 2023 YAMP Participants
Sep 8, 2023, 14:41 PM by Noah Cline
The National Flute Association announces the Fall 2023 participants in our Young Artist Mentorship Program (YAMP).
Ester Benvenuto, Joycelyn Jackson, Jasper Kasey, and Maíra Viana have been selected to participate in YAMP's Fall 2023 session, receiving mentorship from Dr. Brittany Trotter, Flor Cruz, and Dr. Maria Castillo. YAMP is organized by Dr. Jeiran Hasan, who co-founded the program with Mily Harrod in 2021.
YAMP, supported by the NFA's Inclusion, Diversity, Equity and Accessibility (IDEA) Committee, pairs college students and recent graduates who identify as belonging to a marginalized cultural group (BIPOC, LGBTQIA+, flutists with disabilities, etc.) with professionally established mentors from similar backgrounds. The participating flutists will meet regularly with their mentors and as a cohort to discuss career goals, networking opportunities, and other skills essential to an arts career.

The Fall 2023 Issue of The Flutist Quarterly, available exclusively to NFA members, will feature an article on YAMP and its participants.
Meet the YAMP Class of Fall 2023: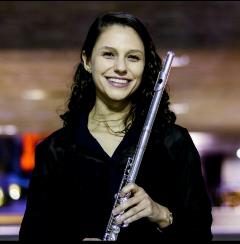 Ester Benvenuto, a Brazilian flutist, graduated from the University of São Paulo and the Municipal School of Music of São Paulo. As a teacher, she works at some schools in the music scene, such as Instituto Baccarelli, where she works through the Suzuki method. She is also a member of the SENAI-SP Philharmonic Orchestra as a flute and piccolo, in addition to chamber music projects.

"For me it is a joy and an honor to be able to participate in this NFA program. Having the opportunity to be guided by such capable people is an incredible opportunity."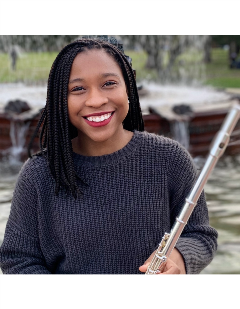 Joycelyn Jackson, an Atlanta-based flutist, composer, and educator, is dedicated to diversifying classical music and uplifting marginalized communities. She earned a Master of Music in Orchestral Flute Performance from Georgia State University and a Bachelor of Music in Flute Performance from Mercer University. In 2022, she won the Brumby Concerto Competition and performed Doppler's Fantasie Pastorale Hongroise. Joycelyn has performed excellently, earning spots in Honor Recitals and receiving numerous awards. She's held principal flute positions in Mercer University and Georgia State University orchestras. Joycelyn is equally accomplished in composition, crafting pieces for solo flute, wind ensemble, choir, and chamber groups. As an educator, she serves as a community coach for the Fayette County School system and is completing a K-12 certification. She also co-hosts MusicaliTea, a podcast dedicated to telling fascinating stories about composers. Beyond music, she enjoys reading, knitting, and cheering for the Atlanta Hawks.

"I'm honored to join the National Flute Association's Young Artist Mentorship Program this year. I look forward to immersing myself in this enriching experience, learning from esteemed mentors, and contributing to the vibrant world of flute music while fostering inclusivity and diversity within our community."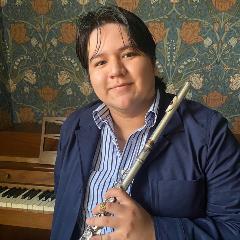 Jasper Kasey (he/they) is a recent graduate of the Youth Performing Arts School at DuPont Manual High School. He has appeared in various festivals such as the Brevard Music Festival, The Artistic Flutist: International Masterclass with Bonita Boyd, the World Association for Symphonic and Band Ensembles Music Festival in Prague, Czech Republic, the Midwest Clinic Music Conference in Chicago and local New Music Festivals. As a chamber musician, Jasper has had the privilege of collaborating with distinguished artists including the NuLu Chamber ensemble, the University of Louisville's New Music Ensemble, the Louisville Youth Orchestra Master Chamber Group and local jazz ensembles. Jasper was born in Louisville, Kentucky and is currently working at the Louisville Academy of Music where he often supports their music community programs. Teachers include Don Gottlieb and Kathy Karr. Outside of music, Jasper enjoys playing volleyball and taking care of their many house plants.

"Music is for everyone and I believe that YAMP is helping make that statement true. I look forward to joining this musical community and to working with many diverse musicians, mentors and friends!"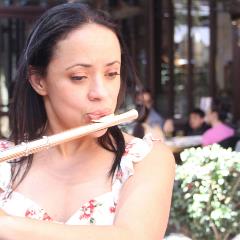 Maíra Viana is a Brazilian flutist from São Paulo, where she studied with Claudia Nascimento and Rogerio Wolf. Maíra now is in her last year of a Master of Music (Performance/Pedagogy) at the University of Texas at San Antonio under the supervision of Dr. Rachel Woolf. She received her Bachelor of Music from São Paulo State University. Maíra has performed with Mackenzie Orchestra and has worked as a flute tutor. Maíra is one of the founders of "Missão Transversal," a flute ensemble committed to sharing music and God's word in hospitals and the community. Maíra was an NFA intern at the 2023 convention in Phoenix, AZ.

"It's a blessing to participate in YAMP and have a mentor who will help me shape the future of my flute career. I am more than excited to share my ideas, get to know other flutists, and receive great advice for my next steps."