Exhibiting Information
You are cordially invited to exhibit your products and services during this major assembly of professional flutists, flute teachers, flute students, and flute enthusiasts. The convention's famously vibrant exhibit hall, which features a wide variety of flutes, music, and flute-related merchandise, is eagerly anticipated months in advance by attendees as their annual "one-stop shop" for all things flute. Make sure your organization is included in the excitement!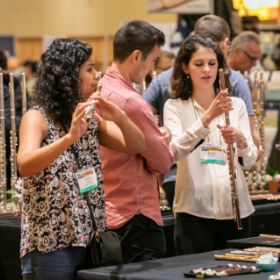 "The NFA is the place to go if you want to make international contacts in the flute world.
It is where the serious flutist comes to shop."
–2015 NFA Exhibitor
For more information or to discuss exhibitor opportunities, contact Daniel Pozzebon, Convention Director, at dpozzebon@nfaonline.org.
"The exhibit hall is something I plan for every year so I can keep up with the latest innovations, gather new music, and make new connections."
–Rebecca Jeffreys, 2015 attendee

"The NFA is the place to exhibit if you are serious about marketing to flutists who move the industry."
–Craig Denny, Vice President, Band & Orchestra at St. Louis Music; 2016 exhibitor
If you'd like to pay online, we offer three options:


PayPal
Click here to submit a payment through PayPal. Please write "2022 Convention Exhibiting Cost—[Your Business/Organization Name]" in the memo line.
Zelle
Submit a payment through Zelle to jclarke@nfaonline.org. Please write "2022 Convention Exhibiting Cost—[Your Business/Organization Name]" in the memo line.
NFA Online Portal
To submit a payment through the NFA website, take the following steps.
Send your signed contract to dpozzebon@nfaonline.org and indicate your desire to pay online. Once your contract has been received, we'll create an open invoice for your account. Please wait until we confirm receipt of your contract before moving on to step 2.
Log in to your NFA profile. (If you have any issues accessing your account, reach out to Mily Harrod, Membership Manager, at mharrod@nfaonline.org.)
Under "My Account," click on "Make a Payment."
Select the invoice and click "Continue to Billing Information."
Enter your credit card information (or select a saved payment method) and click "Process Payment."
Once your order has been processed, you'll receive a confirmation email.