Exhibiting Information
You are cordially invited to exhibit your products and services during this major assembly of professional flutists, flute teachers, flute students, and flute enthusiasts. The convention's famously vibrant exhibit hall, which features a wide variety of flutes, music, and flute-related merchandise, is eagerly anticipated months in advance by attendees as their annual "one-stop shop" for all things flute. Make sure your organization is included in the excitement!
To see a list of current exhibitors, click here. For more information or to discuss exhibitor opportunities, contact Daniel Pozzebon, Convention Director, at dpozzebon@nfaonline.org.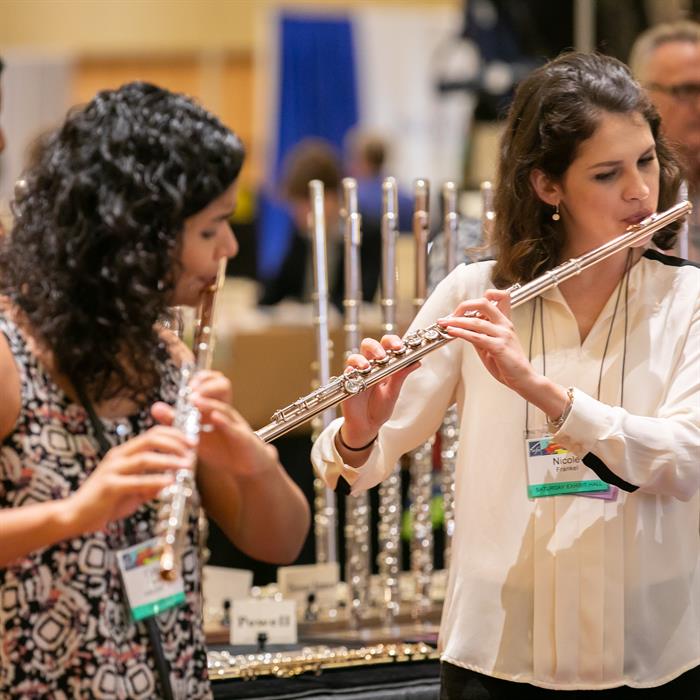 Exhibiting Contract and Information
Please note, all communications regarding exhibiting and contracts will come directly from NFA staff members. The NFA has not authorized any 3rd party organizations to make soliciting calls or emails.
Exhibitor Online Contract

Please note, the login system for our commercial members has been updated. Please watch the provided instructional video to learn how to login and complete the contract.
If you have never had a Commercial/Organization account with the NFA before, please contact our Office & Convention Association, Aydan Hensley at ahensley@nfaonline.org to setup your account.
View the Online Exhibitor Contract Demo

Other Forms
Exhibitor Badge Information Form Due by July 13th, 2023
Small Company Discount Application

NOW CLOSED

Exhibitor Showcase Information Form

NOW CLOSED




Exhibitor Concert Information Form NOW CLOSED

Important Dates & Deadlines
March 1: Booth sales open
April 4: Last day to receive full allotment of 2023 placement points (with full contract payment)
April 15: Last day to have an ad requested for printed materials (after this date all ads will be placed in online materials)
May 1: Exhibitor kit will be emailed to all exhibitors and posted online
May 3: last day to receive any placement points (with full contract payment)
May 3: Last day to submit Exhibitor Showcase & Exhibitor Concert information forms
May 18: Last day to sign and pay contract for priority placement
June 7: Last day for inclusion in the NFA convention program book
"The NFA is the place to go if you want to make international contacts in the flute world. It is where the serious flutist comes to shop."
–NFA Exhibitor
"The exhibit hall is something I plan for every year so I can keep up with the latest innovations, gather new music, and make new connections."
–Rebecca Jeffreys, Attendee
"The NFA is the place to exhibit if you are serious about marketing to flutists who move the industry."
–Craig Denny, Vice President, Band & Orchestra at St. Louis Music; Exhibitor