Exhibiting Information
You are cordially invited to exhibit your products and services during this major assembly of professional flutists, flute teachers, flute students, and flute enthusiasts. Plan now to take advantage of this unique opportunity to reach the flute world!
The virtual exhibit hall will follow the NFA tradition of featuring exhibiting companies offering a wide variety of flutes, music, and flute-related merchandise and services. The virtual space makes it easy for attendees to make direct, on-the-spot contact with exhibitors and find out more about their offerings. Make sure you're included in the excitement!
Most exciting of all is the fact that the Basic Exhibitor Package at the virtual 2021 NFA convention is free for NFA commercial members. Not a commercial member? Sign up here and secure your free space at the convention exhibit hall!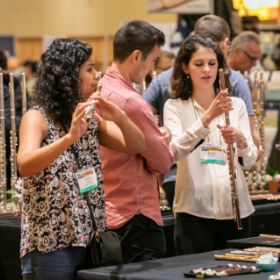 Ready to learn more?
Watch the video below for a tutorial that walks through the process of setting up your "booth" and gives a sneak peek of what your space will look like in the convention environment: