We're pleased to invite you to the 2021 NFA Convention: Variations on a Dream. This year's convention will highlight the variations we take as flutists in carving out our own creative and career paths in today's musical landscape.
The 2021 Virtual Convention is the full 2020 convention planned for Dallas, TX, dropped onto an online platform. All your favorite NFA convention features will be included: the opening orchestra, reading sessions, performances, panels, workshops, lectures, late-night cabaret, opportunities to network, access to exhibitors showcasing the best instruments and supplies in our field, and more. We've also built in some of the elements from last year's popular Summer Series, such as a series of affinity spaces and morning warm-ups to start things off each day.

While we'll all miss the sensory buzz of in-person convention, we're excited about the expanded possibilities a virtual convention presents. With plane tickets, hotel rooms, travel arrangements, and general geographic proximity no longer required, more people than ever can join in, allowing for a more diverse and multifaceted dialog. And along with a number of passionate volunteers, program chair Jennifer Grim has put together an exciting array of programs and experiences for attendees to dive into from the comfort of their own homes.
Have questions about 2021 convention logistics? Consult our FAQ page.
Click here to view the official 2021 NFA Convention press release.
A note from 2021 Program Chair Jennifer Grim
"While it is unfortunate that we can't gather in person for the convention, I am excited to share the thoughtful, diverse, and imaginative programs and presentations submitted by the NFA membership. Flutists from around the world will come together for a virtual celebration of the convention's theme, 'Variations on a Dream,' through performances, masterclasses, thought-provoking discussions, and workshops. This summer may still look a little different, but I look forward to seeing all of you online and as we look toward the future."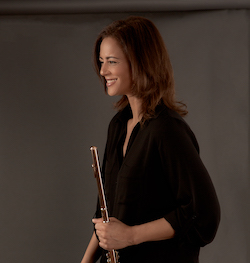 Program Book
Every year, the program book for the NFA Convention provides an informative keepsake including programming details, performer bios, convention tips, competition winner listings, sponsor and exhibitor information, and more. This year, the program book is available online, as are separate documents for performer bios, the repertoire guide, and programs. Click here to visit the program book web page and easily find any information you're looking for.

Program Highlights
Some highlights from this year's lineup include:
Featured performers: Alberto Almarza, Joidy Blanco, Claire Chase, Tara Helen O'Connor, Allison Loggins-Hull, Demarre McGill, Timothy Munro, Erica Peel, Marina Piccinini, Elena Pinderhughes, Karl-Heinz Schütz, Alex Sopp, Carol Wincenc
Masterclasses: Masterclass Performers: Alberto Almarza, Jasmine Choi, Karl-Heinz Schütz; Orchestral Audition Masterclass: Sonora Slocum, Erica Peel; Baroque Flute Masterclass: Sandra Miller; High School Masterclass: Helen Blackburn; Junior Masterclass: Zara Lawler
Workshops, panels and lectures: Workshops: Movement Workshop with Nina Assimakopoulos, Focus on Flexibility, Body Mapping, and much more; Panels: Beyond the Music: The Art of Transforming Students; Community-Minded Musicianship; Know Your Worth: Tips for Entrepreneurial Musicians; Thinking Big: Expanding the Flute Repertoire; Lectures: The Paris Conservatory, The Latin American Music Initiative, Designing Musical Projects; Demystifying the use of anatomical references; Teaching Flute Foundations; Telemann's Flute Fantasias: a landmark opus
World premieres: Claudia Anderson, Eve Beglarian, Allison Loggins-Hull, Andrew Rodriguez, Sungji Hong, and many others
Keynote speaker: Lecolion Washington: Who decides what has value? Race, relevance, and the future
Youth Flute Day: Playful Exploration in Breathing, Piccolo for All!, Between the Beats workshop
Late-night cabaret: NFA Jazz Flute Big Band; Haruna Fukazawa with Steve Wilson and Flute is a Drag--with games
Participate: Open orchestra reading, flute choir reading sessions, Irish flute Jam
Plus – flute choir showcases, competitions, daily warm-ups, affinity spaces, happy hours, virtual exhibit hall--and a chance to meet flutists from around the world
Registration Scholarships
If you would like to attend the convention but can't afford the registration, you're invited to apply for a scholarship. We've recently opened a second and final round of full and partial scholarships for those with financial limitations. Priority will be given to students and those who would be otherwise unable to attend the convention. Non-members may apply but, if selected, will be required to purchase an NFA membership (students will receive a discounted student membership rate).
To be considered, fill out the application form by July 15. Applications will not be accepted from those who applied during round 1 in June 2021. Late applications will not be accepted.
The deadline to apply for registration scholarships has passed.
Click here to register. (Please note that to register as a non-NFA member at the non-member rate, you will need to create an NFA account.)

For this convention, we are offering a range of price options to suit all those who wish to attend, including early registration discounts, non-member registration options, student discounts, and day memberships. And all the member registration prices are lower than the cost of attending a live convention--for the same great content. Registration allows you to attend the convention live and re-watch all convention content (except meet-ups and affinity spaces) through September 15.

Please note that to enjoy membership pricing for convention registration, you must have an NFA membership that is active through August 15, 2021. If you are not currently a member or your membership expires before then, you can still take advantage of membership pricing by selecting a registration-and-membership bundle.
Standard Member Registration
Standard convention registration for members--for all four fabulous days or for a day of your choosing.
$230

$125

Full Convention Registration

Daily Registration (Thurs., Fri., Sat., or Sun. only)
Student Member Registration
Standard convention registration for student members--for all four fabulous days or for a day of your choosing.
$125

$75

Full Convention Registration

Daily Registration (Thurs., Fri., Sat., or Sun. only)
No strings--just join us for the convention.
| | |
| --- | --- |
| $340 | Non-Member Registration |
Registration & Membership Bundle
Take advantage of the membership and registration bundle if you're not a member--you'll save in the end.
Standard Membership
| | |
| --- | --- |
| $325 | $230 (Registration) + $95 (Membership dues) |
Student Membership
| | |
| --- | --- |
| $180 | $125 (Registration) + $55 (Membership dues) |